From our sponsors: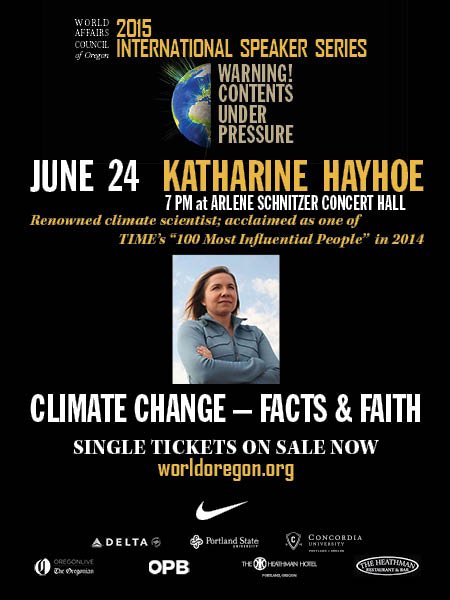 World Affairs Council of Oregon 2015 International Speaker Series
June 24, 2015
7-8:30 p.m. | $47.00 – $162.50
Tickets: portland5.com
More info: worldoregon.org
Arlene Schnitzer Concert Hall
1037 SW Broadway, Portland, OR 97205
Come and hear renowned Climate Scientist Katharine Hayhoe bridge the divide between Fact and Faith—one of the most contentious schisms in the climate change debate. Hayhoe is the final speaker of the 2015 International Speaker Series put on by the World Affairs Council of Oregon.
Katharine Hayhoe was recently cited as one of Time Magazine's "100 Most Influential People" and one of Foreign Policy's "Leading Global Thinkers" in 2014. Director of the Climate Science Center at Texas Tech University, she has authored more than 100 peer-reviewed publications and co-authored the book, A Climate for Change: Global Warming Facts for Faith-Based Decisions. She is founder and CEO of ATMOS Research and a scientific advisor to Citizen's Climate Lobby and the Evangelical Environmental Network.
Each year, the International Speaker Series brings influential world figures to Oregon to address the most critical ideas and issues shaping our global future. This year's theme, "Warning! Contents Under Pressure" presents four engaging, provocative speakers taking on some of the most urgent, front-and-center issues of our time: War, Extremism, Inequality, and Climate Change.