From our sponsors at Goodfoot: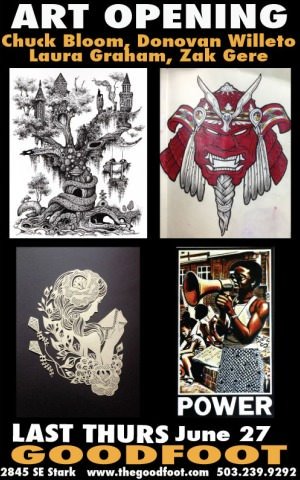 Chuck Bloom, Donovan Willeto, Laura Graham and Zak Gere art
June 27, 2013
5 p.m.-Midnight | Free | All Ages
More info: | Facebook Event
Goodfoot Pub & Lounge
2845 SE Stark Street, Portland, Oregon
The Goodfoot will have an art opening last Thursday of June, the 27th from 5-12. The show will be up until July 22nd . This months artists are Chuck Bloom, Donovan Willeto, Laura Graham and Zak Gere.
Chuck Bloom: "Before the painting is finished, the vision is already fading to memory. I can only hope that I've understood enough of the message to help me further along this tiresome trek. My ultimate goal is walk right into one of my canvases and never return, but the door opens and the door closes in the blink of an eye. the barriers are endless and the map I followed getting here is torn and unreadable.
Perhaps I've pretended to know where I was all along just to feel more comfortable, but it doesn't make it any less real. My paintings have been misinterpreted as illusion or confused. Some people see nothing in them at all — and I ask myself how we have arrived at this point where dreams are not explored, imaginations are not encouraged and so many folks go through life with blinders on? I speak in visual metaphor.
The manipulation of my subject matter is natural and balanced. The psychological state of events is for you, the viewer to extrapolate — the results of which you may find you least expected. There is an element of deja vu in my work as well as a kind of "separation anxiety" from a time and place where imagination and dreams were the tools of the artist. Now, decorating trends and corporate contracts have replaced these tools andartist such as me continue to work with content while many have chosen brand recognition."
Donovan WiIleto is Navajo, full blooded, and he tend to wander about downtown to find a place to begin to draw. Donovan started his drawing when he was three and from then on its been a tool that he uses to manage stress, make friends, and mellow out on a boring day. Donovan is always listening to music as he draw… to bring out that sorta thing in the vibe perspective.
Laura Graham started making art when she was a few years old and enjoyed drawing all over her sister with pens and markers. She briefly studied illustration in school on the east coast before leaving everything behind to move to Portland in 2006. She works at Lady Luck Tattoo here in southeast. When she's not tattooing, Laura likes to travel, cut paper, and hang out with her husband and tiny dog.
Zak Gere was born in Portland, Oregon, in 1978. As a self-taught artist, he has been independently showing and selling art since 1999. Zaks paintings vary greatly in subject and style from photo realistic portraits to highly stylized figures and landscapes. Zak also sculpts with a variety of materials but has focused on wire sculpture which he builds in to incredibly detailed solid forms.