From our sponsors: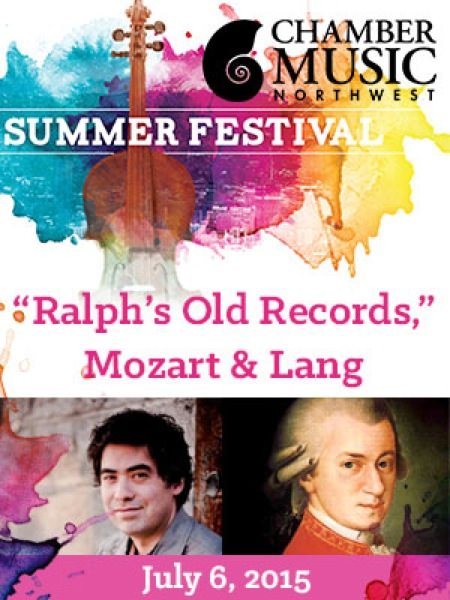 Chamber Music Northwest presents "Ralph's Old Records," Mozart & Lang
July 6, 2015
8 pm | $10-$60 | 7+
Tickets: cmnw.org
Kaul Auditorium, Reed College
SE 28th Avenue & Woodstock Blvd.
A remarkable evening with two masterpieces by one of classical music's greatest composers and two premieres from today's. Experience Mozart, the world premiere of Kenji Bunch's Ralph's Old Records, and a West Coast premiere by Pulitzer Prize-winner David Lang.
Kenji Bunch, a Portland native, says of Ralph's Old Records:
"Growing up, I frequently enjoyed listening to a cassette tape compilation my dad made from his stack of old vinyl records from the 30s and 40s. His handwritten title was…simply "Ralph's Old Records." Recently…I've begun to reconnect with these recordings. In this sense, Ralph's Old Records is a quite personal word, written in the spirit of how I remember discovering this music as a child thirty-some years ago."
Musical Conversation: Join us at 7:00 pm for the free musical conversation with the artists before the concert. The half-hour insider discussions will give you unmatched perspective on the music from the very musicians performing it for you in the concert!
Program:
MOZART Quartet in D Major for Flute, Violin, Viola and Cello, K. 285
DAVID LANG almost all the time for String Quartet (2014, West coast premiere)
KENJI BUNCH Ralph's Old Records for Flute, Clarinet, Viola, Cello and Piano (2015, world premiere)
MOZART Quintet in D Major for Viola and String Quartet, K. 593
Chamber Music Northwest, now in its 45th season, serves thousands of people in Oregon and Washington with exceptional chamber music through 100 events annually, including Summer and Winter festivals, concerts in alternative venues, outreach activities, educational programs, broadcasts, and innovative collaborations with other arts groups. CMNW is the only chamber music festival of its kind in the Northwest and one of the most diverse classical music experiences in the nation, virtually unparalleled in comparable communities. CMNW's 45th Anniversary Summer Festival runs from June 22-July 26, 2015. Visit www.CMNW.org for more information!