From our sponsors: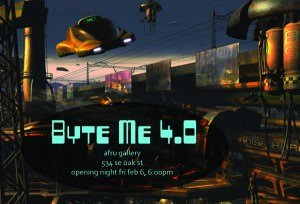 2015 Byte Me
Opening Night February 6, 2015
6 – 11 pm | Free | All Ages
More info: 503-475-9911
AFRU Gallery
534 Southeast Oak Street, Portland, OR 97214
(503) 915-7301
AFRU Gallery is proud to host the 4th annual Byte Me, a showcase of technological art. All pieces are interactive works that would not be possible without the use of digital technology. This year is again filled with exhibits, big and small, that bend the senses and challenge the mind.
Works Include:
"ForeverScape" – the live music of organic DJ Duo "TIPOL" will project motion and life into this enormous illustration painting that involves hundreds of drawings spanning the walls. by Vance Feldman
"Church of Robotron Altar" – a mobile training facility that uses hazardous environments, religious indoctrination, and emotional triggers to promote the development of the skills necessary to survive in a hostile post-human environment. by The Church of Robotron
"Pixel Basilica" – an interactive exploration of cellular automata patterns inspired by the process of converting sand into silicon wafers, and wafers into web sites. by Libby White
"plin.co" – interactive projection mapping, based on the classic Price is Right game. by John Brown
"Magic Window" – Magical, interactive, time changing views of cities & nature built using time lapse photography. by Josh Michaels & Hal Bergman
"Purple Stars" – An interactive swirl of color and light. by Grant Keltner
"Mustache Mayhem" – Based on the short-lived Nintendo Virtual Boy video game console this piece lets you overlay virtual mustaches onto real-world faces. by Joe Grand
"Shimmer" – an elegant, interactive light box. by Julie Rall
And More!
We hope you can attend this amazing, free, all ages show with unique modern art.
The showcase runs throughout February, the following hours: Fridays and Saturdays: 12:00pm – 4:00pm, Sundays: 2:00pm – 6:00pm
Curated by Carlos Severe Marcelin. Byte Me is a Severe Enterprises Production.