From our sponsors: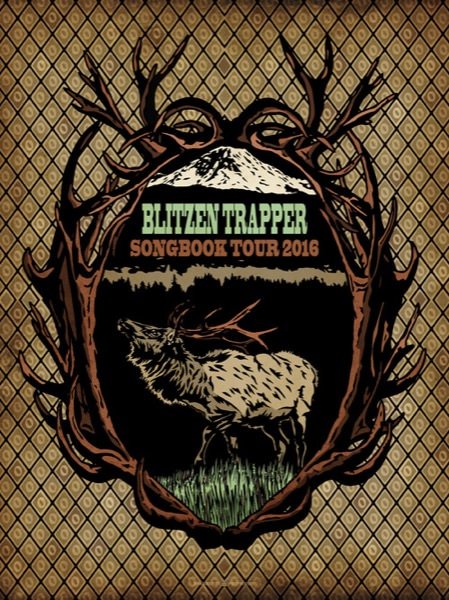 Blitzen Trapper – Songbook: A Night of Stories and Songs
October 29, 2016
Doors: 7 pm / Show: 8 pm | $25 ADV / $27 DOS | All Ages
Tickets: revolutionhall.com
Revolution Hall
1300 SE Stark Street, Portland, OR
Over the course of 15 years and seven full-length albums, Blitzen Trapper has crafted one of the more compelling and varied catalogs in contemporary rock and roll. Indeed, singer and guitarist Eric Earley, who is also the Portland, Oregon-based band's primary songwriter, is possessed of a musical and lyrical sensibility that is remarkably deep and wide; big ideas and universal emotions
are wrung from the seemingly plainspoken details of small-screen and often highly personal stories, and set to music that reaches way, way back to old-timey folk and bluegrass, travels through everything from country, psychedelia and soul to prog, garage and metal, indulges gloriously in the classic rock of the 70s and 80s, and makes occasional side trips into hip-hop, skewed pop and noisey freakouts.
Even while continuing to explore broad stylistic territory, Blitzen Trapper's eighth studio album, a 10-song collection titled All Across This Land, stands as an exceptionally focused and immediate effort. Though it follows 2013's somewhat experimental VII, a futuristic hiphop/country-rock hybrid, All Across This Land, in contrast, is a top-down, tightly defined piece of classic rock and roll, full of big riffs, bigger hooks and compelling, instantly relatable lyrics. In sound and scope it recalls two of the band's more beloved albums, 2008's breakthrough fourth effort, Furr, and 2011's landmark American Goldwing. "I think it's a return to the sort of more 'classic' Blitzen Trapper thing, for sure," Earley says.
It also follows something of a pattern. "It seems to be that every other album goes this way,"
Earley continues. "After Furr we did [2010's] Destroyer of the Void, where we were exploring all these different things. Then came American Goldwing. After that, VII. Now we're back to that rock thing again." Something else All Across This Land shares with Furr and American Goldwing: the fact that these new songs came quick, and in a very concentrated period of time. "Those two albums, I wrote all the songs at once and they all hang together. But the records that came in between, they were written over the course of a year-and-a-half or so," Earley says. For All Across This Land, he continues, "I had all the songs written and demoed in a three or four month span. And I think they work together because everything came in such a short period." And yet, for a record characterized by its focus, there is still plenty of musical and lyrical ground covered within its ten songs. Gentle, almost folksy moments—the lilting, pedal steel-inflected "Love Grow Cold"; the fingerpicked closer "Across the River"; the acoustic-guitar-andharmonica-led "Lonesome Angel"—abound, even if, for the most part, All Across This Land is defined by its more upbeat rock-and-roll numbers. To that end, Earley says it's the record that perhaps best represents what Blitzen Trapper is as a live act. "It's funny, because I think with this band, there's two different ways people see us," he says. "People who just hear the music somewhere, they tend to think of us as this, like, indie-folk act. But people who come to the shows know that we're actually a hard rock band. And who knows? Maybe all that some people really want from us is folk music. But what we like to do is play rock music."
Sera Cahoone
Sera Cahoone is a long way from home. Growing up the daughter of a dynamite salesman in the Colorado foothills, she got her start on the drums at 11. A year later, her skills had become so promising, her mom started taking her to dive bars to sit in with the scruffy old bluesmen. By the time she even picked up a guitar, she had been so shaped by these things – the dynamite, the blues, the woods and the hills – it's no surprise she went on to earn a reputation as one of the strongest songwriters in Seattle's ever-vibrant Americana scene.
She moved north in 1998 to open a snowboard/skateboard shop but quickly found herself backing lo-fi outfit Carissa's Weird on drums. Since that band split in '03, she's lent her sticks to folks as variant as Carolina rockers Band of Horses, Seattle blues chick Betsy Olson, and singer-songwriter Patrick Park. But in 2006 she struck out on her own with a self-titled debut which immediately scored praise from local and national tastemakers alike.