From our sponsors: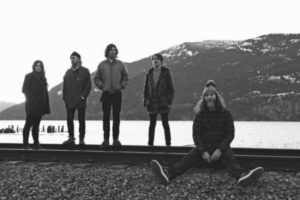 Black Mountain
with special guest zZz
March 12, 2017
7 p.m. doors, 8 p.m. show | $18 ADV, $20 Doors | 21+
More info: mcmenamins.com
Mission Theater
1624 NW Glisan St, Portland, OR 97209
"We were toying with the idea of calling the album Our Strongest Material To Date" laughs Jeremy Schmidt. The Vancouver outfit's keyboardist can afford to joke about what they describe as "the dog-eared ace of spades of all rock band platitudes." It was during a solo show under his Sinoia Caves alias that he performed a revelatory electronic prototype for Mothers Of The Sun. This quintessentially Black Mountain tour de force kicks off the renamed but still accurately titled IV. "It's actually an older song which we couldn't get quite right before," explains Schmidt. "It has all the elements that we gravitate towards, built into one miniature epic."
Chief among these elements is the distinctive voice and breathtaking range of Amber Webber, whether she's powering through interstellar boogie on Florian Saucer Attack, setting the celestial tone for her beautifully orchestrated ballad Line Them All Up, or constructing the choral midsection for Space To Bakersfield, a psychedelic soul finale inspired by Funkadelic's deathless Maggot Brain. "We'd meant to have an actual choir, but I ended up singing all the parts. It's a choir of me! I'd never written an arrangement like that before."
zZz
Many moons ago 2 boys came into the possession of an old church organ. Armored with the organ and a 3piece drum kit, they created a couple of tunes and within a week made their first appearance playing at a underwater party. The crowd went insane and the Sound Of zZz was born.