From press release: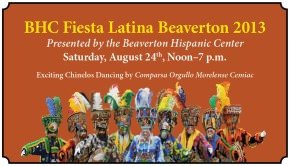 Beaverton Hispanic Center Fiesta Latina Beaverton 2013
August 24, 2013
Noon – 7 p.m. | Free | All Ages
More info: beavertonhc.org
BG Plaza Courtyard
3800 SW Cedar Hill Blvd, Beaverton
We are pleased to announce the BHC Fiesta Latina Beaverton 2013. This fundraising event and celebration of Beaverton's Latino culture will occur on August 24, 2013 from Noon–7:00 p.m. It will be held in the courtyard of the BG Plaza, located at 3800 SW Cedar Hills Blvd. behind Goodwill and the Thai Bloom restaurant.
The event will include fun for all ages, like piñata making classes and face painting for kids, and salsa dancing for teenagers and adults. There will be performances by internationally renowned mariachi singer Edna Vazquez, by Martín Zarzar, who played for ten years with Pink Martini, and Comparsa Orgullo Morelense Cemiac, a local group practicing traditional Chinelos masked dancing from México.
In commemoration of the opening of the Beaverton Hispanic Center's new office, we will also hold a ribbon cutting ceremony with special guests representing state and local government and leaders in the Hispanic community.
Local businesses and organizations will be on site exhibiting their wares and offering the food you love. Other attractions will include a silent auction and raffle to raise money for the Beaverton Hispanic Center's operations.