From our sponsors: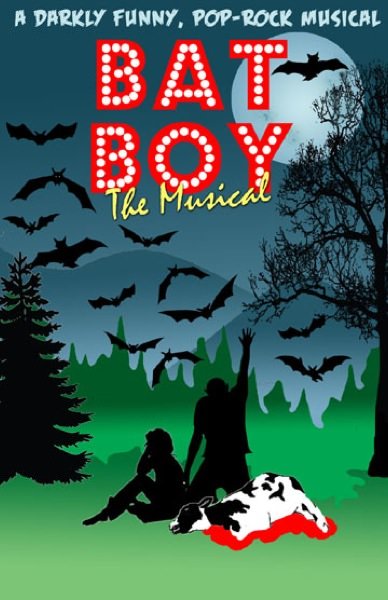 Bat Boy the Musical
November 6-29, 2014
Thursday $15 ADV / $20 Doors
Friday & Saturday $20 ADV / $25 Doors
More info: funhouselounge.com
Funhouse Lounge
2432 SE 11th Ave, Portland, OR 97214
(503) 841-6734
Funhouse Lounge presents the hilarious Off-Broadway musical comedy hit, Bat Boy, The Musical. This campy, off-the-wall parody inspired by a supermarket tabloid story of a half-boy, half-bat keeps both tongue and fang firmly in cheek. The exuberant score mixes rock, Broadway, gospel, and country music in a smart, witty, self-aware comical confection.
The only musical inspired by a 1992 headline in the Weekly World News tabloid. Bat Boy is a dark, witty, moving, outrageously silly and totally charming musical comedy/horror show about a strange half boy/half bat creature discovered in a West Virginia cave. From the creators of Legally Blonde: The Musical and Heathers: The Musical, Bat Boy: The Musical is an adult-oriented show with mature themes that explores cultural taboos in a darkly camp manner. Bat Boy: The Musical cleverly deals with issues of love, family, acceptance, community and values, while taking the audience on a twisted journey through rock ballads, gospel revival anthems, and hoe-down toe tappers. Directed by Roland Rusinek. Musical direction by Brian Michael.
Show Dates
November 6,7,8,13,14,15,20,21,22,27,28,29 7pm and 2:30 matinee on Saturday Nov 22nd only.