From our sponsors: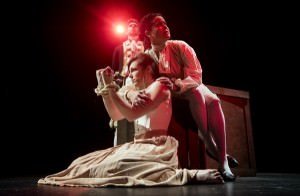 Our Country's Good
May 7-10, 14-17, 21-24, 28-31, 2015
Thursdays, Fridays & Saturdays at 7:30pm, Sunday matinees at 2 pm
$20-$30 | All Ages
Tickets: bagnbaggage.org
The Venetian Theatre
253 E Main Street, Hillsboro 97123
Bag&Baggage Productions, Hillsboro's resident professional theatre company, is proud to present Timberlake Wertenbaker's critically acclaimed Our Country's Good from May 7 – 31, 2015 at The Venetian Theatre in downtown Hillsboro. The play, which has been honored with dozens of awards over the past 30 years, is a potent and expansive historical drama about the early years of England's colonization of Australia, which also celebrates the truly transformative power of theatre as an art form.
"Our Country's Good is truly an astonishing piece of theatre," said B&B Artistic Director Scott Palmer, who also directs the play. "Not only does it cast light on a little known piece of history, but it is also a profoundly moving story filled with warmth, humanity and redemption. I love this play and think our audiences will, too."
The year is 1789. In the penal colony of Sydney, a young, married lieutenant is in the midst of directing the very first play ever to be performed in Australia. With a ragtag cast of convicts, a leading lady who may be about to be hanged, and only two copies of the play available, rehearsals for this Restoration comedy aren't going well. Yet as the barriers between captors and captives break down, they start to discover each other, both onstage and behind the scenes.
Our Country's Good was called "a playful but profound piece of theatre" and a "modern masterpiece, lovingly revived" by the Financial Times of London when the play first premiered. The Independent declared Our Country's Good "glowingly persuasive," while British Theatre Guide proclaimed "[Playwright] Timberlake Wertenbaker expertly balances humor and tragedy in a truly gripping evening that never lets up the tension… Our Country's Good is a genuine modern classic."
"Few stories are as powerful – or reveal the courage and resilience of the human spirit – as Our Country's Good," said Palmer. "The play is based on actual events, as recounted in Thomas Keneally's novel The Playmaker, which makes it an ideal script for Bag&Baggage to end our seventh season of work."
The play provides the cast with a number of challenges; there are more than 20 characters in the story, but the cast is comprised of only 10 actors, meaning each actor must play at least 2 characters. "The story is essentially about the way that the soldiers and the convicts come to understand, respect and appreciate each other through the medium of theatre," said Palmer. "So our actors face a real challenge in that they have to play both a soldier and a convict during the play, and do so believably and with empathy."