From our sponsors: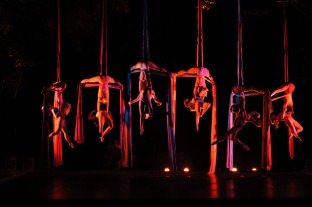 A-WOL Dance Collective presents
ART in the DARK: "One Shy of Ten:
The Intangible Dimension"
August 22-25, 2013
Seating 7:30 p.m. / Show 8:30 p.m. | $10-$30 | All Ages
Tickets: eventbrite.com | More info: www.awoldance.org
Mary S Young Park
19900 Willamette Dr., West Linn, OR 97068
More info: westlinnoregon.gov
A-WOL Dance Collective announces their annual Art in the Dark show featuring aerial dance in a unique setting; suspended from the trees of Mary S Young Park in West Linn, OR.
Suspended in the trees, surrounded by darkness, and soaring into another period of time… another zone… another dimension…
A-WOL invites you to enjoy this summer's signature aerial event, Art in the Dark, with the original presentation of "One Shy of Ten, the Intangible Dimension."
Intriguing, eerie, and mysterious, A-WOL leads audiences down a path into the absurd, the unbelievable, and the incredible. Reminiscent of a black and white science-fiction, fantasy television show in the 60's… dancers weave through 4 story-lines- rich with just the right amount of mystery, suspense, and quirkiness to delight audiences of all ages! Think you've got it all figured out? Watch out (and up!) for the twists on the trapeze, flips on the fabric, pivots on the poles, swings on the chandelier, and careening of the chairs… that might leave you second-guessing what is real and what is not!
A-WOL's Art in the Dark annual performance is a fantastical, illuminated, full-length, evening production set in a unique and rare outdoor theater style setting. Transforming a dirt plot into a performance spot, each show is packed with the flavor of the Northwest and a wonderful taste of the talent this area has to offer! Come see why A-WOL grabbed the attention of OPB's "Oregon Art Beat" during last year's record-breaking season!