From our sponsors: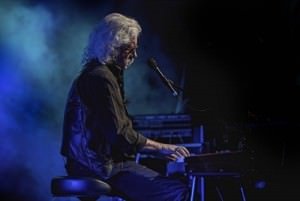 Arlo Guthrie's Alice's Restaurant Tour
w/Sarah Lee Guthrie
April 14, 2016
Doors: 7 pm / Show: 8 pm | $39.50 ADV / $42 DOS | Minors OK w/ Guardian
Tickets: revolutionhallpdx.com
Revolution Hall
1300 SE Stark St, Portland, OR 97214
503 288 3895
Arlo Guthrie has been known to generations as a prolific songwriter, social commentator, master storyteller, actor and activist. Born in Coney Island, New York in 1947, Arlo is the eldest son of Marjorie Mazia Guthrie, a professional dancer with the Martha Graham Company and founder of The Committee to Combat Huntington's Disease, and America's most beloved singer/writer/philosopher/artist Woody Guthrie. Arlo has become an iconic figure in folk music in his own right with a distinguished and varied career spanning over fifty years.
Guthrie's trademark ability to derail a song with a comical tangent and bring it right back on track with a relatable thought is as concise as ever. Fifty years after the historic events that launched him to reluctant celebrity, Arlo brings The Alice's Restaurant Massacree in its entirety back to the stage for an international tour beginning January 2015.
Sarah Lee Guthrie
Her voice runs deep with the river-legacy of a widening current of American folk music. If you close your eyes and forget that her last name is synonymous with a unique quilt-like tapestry of historic songs and stories, you'd still be drawn to the clarity and soul behind her voice and her feel for the songs she sings like so much national treasures. There is a gentle urgency to her interpretations of the classic music of her heritage. It flows from the continuity of her family, her vital artistic life today and the river of songs that have guided her to where she now stands midstream.
Now she has decided it is time explore the rich flow of her family legacy as she steps into the legendary footsteps and skyways and takes them to her growing audience of old and new generations.
This is not so much a new direction for her as a natural one. It's been hinted at since she first stepped on the stages of Wolf Trap and Carnegie Hall as a teenager in 1993 singing Pete Seeger's "Sailin' Down My Golden River" for sold-out audiences. But it was later, when she met her husband, Johnny Irion, grandnephew of Woody Guthrie's literary kindred spirit, John Steinbeck, that she began to embrace her birthright and her inherent gifts. Today she talks about this as the coming together of a unique unity, much like the journey of her father, Arlo Guthrie and grandfather, Woody Guthrie.