From our sponsors: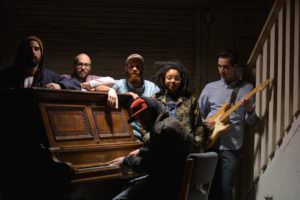 Dan Cable Presents: All These Foolz w/Tribe Mars, Rasheed Jamal, and Sumalienz
April 1, 2017
Doors 8 p.m., Show 9 p.m. | $10 | 21+
Tickets: ticketfly.com
The Secret Society
116 NE Russell St, Portland, Oregon 97212
Dan Cable Presents: All These Foolz w/Tribe Mars, Rasheed Jamal, and Sumalienz at The Secret Society
Tribe Mars
Tribe Mars are a soul/jazz/funk/hiphop act based in Portland. Keyboards, vocals, trumpet, guitar, bass and drums create this bands fresh yet slightly nostalgic sound that's largely born out of improvisation. Drummer Robert and guitarist Brett of Northern California met keyboard player Andre Burgos of Philly while he was playing piano at local bar Roadside Attractions. A month later singer/trumpet player Shawn Dungee of N. Arizona came in and added a focal point. After a few months of jamming, Robert and Brett's pal and former bandmate Brian moved up from L.A. and hopped on the bass guitar, completing and fleshing out the bands sound. The culmination of diverse musical backgrounds has resulted in a unique, raw, old school meets new school, West coast meets East coast vibe that'll be sure to have you groovin' and leave you toe tappin' until their next show.
Rasheed Jamal
Rasheed Jamal produces a transformative brand of music based mostly on his experiences growing up in Central Arkansas then moving to the Pacific Northwest as an adult. His music represents the vast spectrum of thought and innovation that his generation represents. He also manages to acknowledge his roots while pushing the envelop with each release.
His latest project SANKOFA is at times upbeat with an aggressive energy that also speaks on social matters with the casual eloquence of an old soul weary with worldly matters. With the growing buzz and success of SANKOFA, Rasheed Jamal says that he is pushing forward to make sure he accomplishes the mission of not only finding his own voice, but helping others find their own voice as well.
Sumalienz
earth-dwelling intergalactic extra-terrestrials making mad music out of Portland, OR. A collective of likeminded individuals, human and beyond ~ ! ~