From our sponsors: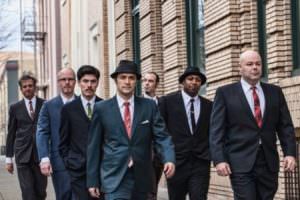 CHERRY POPPIN' DADDIES
April 18, 2017
Doors 7 p.m., Show 8 p.m. | $20 ADV, $25 Doors | All Ages
Tickets: revolutionhall.com
Revolution Hall
1300 SE Stark Street, Portland, OR
971 808 5094
Ever since they first formed some 25 years ago, the Cherry Poppin' Daddies made it their mission to veer from genre to genre across the musical map, choosing to follow their own muse regardless of feedback from fans and critics alike. Truth be told, individuality and defiance have always been part of the band's DNA, and have, in turn, reinforced their rebellious reputation. Granted, though that image is well deserved, the ability to bend the boundaries has been simultaneously tempered and informed by an adherence to an older, now vanished tradition, grounded in Tin Pan Alley, Swing music and the great American songbook.
According to the band's longtime leader, singer/songwriter Steve Perry, the band's mantra has remained the same – "the obstacle is the path", that is, to pursue unexpected and difficult avenues that challenge both themselves as artists and modern sensibilities while at the same time adhering to standards and erstwhile traditions of American popular song.
To that point, the band's new opus titled Please Return the Evening: The Cherry Poppin' Daddies Salute the Music of the Rat Pack – was designed as a challenge to their craftsmanship in the recording studio, attempting to do justice to original magnificent, orchestral arrangements and recordings, while being limited to their 8 piece band inside a small Eugene, Oregon recording studio.