From our sponsors: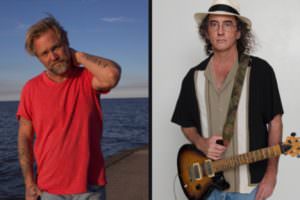 Anders Osborne & James McMurtry
November 17, 2016
Doors 7 p.m., Show 8 p.m. | $29.5 ADV, $32 Doors | Minors OK w/ Guardian
Tickets: aladdin-theater.com
Aladdin Theater
3017 SE Milwaukie Ave, Portland, OR 97202
Anders Osborne
The depth of one' s life is evident through their music. The more sorrow, laughter and adventure experienced, the more interesting curves and crevices are carved into an artist' s songs.The miles traveled leave rich lines in the verses that only time, misadventure, and hard-won wisdom can produce.Anders Osborne is a map of intensely felt, passionately engaged living, a fractured but healing topography of heartbreak and hope for fellow travelers to explore.
Osborne' s music is redolent of the blues bathed in West Coast sunshine and brotherly compassion, a torchbearer for rock ' n' roll with blood in its veins and a heart in its hands. His long awaited new full length, Spacedust & Ocean Views, offers up graceful songwriting and signature guitar work on one of the strongest releases in his storied career. A strong sense of place runs through the album. From an evocation of geography to a questioning of one' s place in the universe, big ideas are condensed in thoughtful, smoothly swinging ways. It' s the album his fans have been waiting for- one that only he can deliver.
"These twelve songs speak about places dear to me, places I feel something profound about, but there' s also the presence of the universe," explains Osborne. "I think one of the main struggles we all face is the separation from unity. I want to understand how I can feel unified with the world and others, with the universe writ large. I can arrange the ideas intellectually but the feeling of longing remains. The whole thing is a mystery, sometimes a sad, baffling mystery and sometimes very enchanting, but overall I just don' t understand and want to desperately. That' s what this music is, an attempt to understand it all."
James McMurty
The son of acclaimed author Larry McMurtry (Lonesome Dove, Terms of Endearment), James grew up on a steady diet of Johnny Cash and Roy Acuff records. His first album, Too Long in the Wasteland (released in 1989), was produced by John Mellencamp and marked the beginning of a series of acclaimed projects for Columbia and Sugar Hill. In 1996, McMurtry received a Grammy nomination for his Longform Music Video of Where'd You Hide The Body. 1997's It Had To Happen received the American Indie Award for Best Americana Album.