From our sponsors: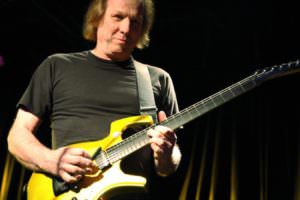 Adrian Belew Power Trio
March 19, 2017
Doors 7 p.m., Show 7 p.m. | $35 | All Ages
Tickets: aladdin-theater.com
Aladdin Theater
3017 SE Milwaukie Ave, Portland, OR 97202
Adrian Belew is a legendary guitarist well-known for his diverse travels around the musical map. He is a multi-instrumentalist whose solo records are critically acclaimed. His moving singing voice and prolific songwriting has endeared a loyal fan base of music lovers. His music is being discovered everyday by more and more listeners thirsty for great music with a creative standard not often pushed by the commercial music industry.
Adrian first appeared on the guitar-world radar when he toured with Frank Zappa who later said, "Adrian reinvented electric guitar". Adrian's signature tones, unique use of effects and whammy bar remains completely different, and his techniques continue to be a huge influence on today's guitarists. He was guitarist, songwriter and frontman Progressive Rock Powerhouse King Crimson for over 30 years. "Discipline", Adrian's first record with King Crimson, is listed among the most important rock records ever made.
Belew has had a career that commands both awe and respect from fellow musicians and loyal fans, from his first solo record "The Lone Rhino" to The Atlantic Records hit album "Mr. Music Head" or any of his other 20 solo records that push sonic boundaries while maintaining artistic integrity. Adrian shreds on guitar but also writes beautiful songs that will make you cry. Yes, Adrian has taken his fans on a wild ride through countless world tours and albums with David Bowie, Talking Heads, Laurie Anderson, NIN and Paul Simon. He truly is the Twang Bar King!
Meanwhile, Belew continues work on the latest additions to his FLUX project, including an album called FLUXbybelew and an in-app addition entitled FLUXation. FLUX is 'music which is never the same twice'. To accommodate the original concept FLUX was released on iTunes as a music app for iPhone and iPad (the only one of its kind, available on iTunes at bit.ly/FLUX_cd) with the app downloaded, you press Play to activate 30 minutes of music, songs, sounds, and visuals which will never happen again in quite the same way. that's because of some very clever algorithms and a huge amount of content.

Saul Zonana
Veteran artist and multi-instrumentalist, Saul Zonana, has been touring and releasing his quirky brand of pop-rock music for over thirty years now. His prolific and extensive career includes ten solo albums, with commercial radio success from his "WAVES" album and the still popular "BLUE MONKEY".
Teaming up with guitar icon Adrian Belew in 2006, Saul created his "42 Days" CD to critical acclaim. "Chasin' It" is still a fan favorite from that album, as is the music documentary ("Chasin' It") which aired on PBS.
Saul toured on bass with The Ace Frehley Band, and on guitar with the Crash Test Dummies. As a solo support artist, Saul has toured with Leon Russell, Glenn Tilbrook, Lisa Loeb, The Spin Doctors, Adrian Belew Power Trio 2006-2008 and many others. In the studio, Saul has worked with many great artists including Taylor Dayne, Blue Oyster Cult, and American Idol finalist Haeley Vaughn.