From press release: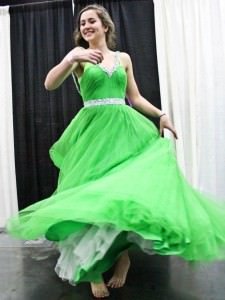 Abby's Closet 10th Annual Prom Gown Giveaway
April 5, 2014 | 8 a.m.-4 p.m.
April 6, 2014 | 10 a.m. – 2 p.m.
Free | More info: abbyscloset.org
Oregon Convention Center
777 NE Martin Luther King Jr Blvd, Portland, OR 97232
(503) 235-7575
The two-day event is the perfect prom dress shopping experience, giving local high school women a chance to shop the largest prom gown closet in Oregon and Southwest Washington. High school women will walk away with a free prom dress of their dreams.
The event will feature more than 5,000 prom dresses ranging in sizes 0-26. Gown accessories will also be featured and will be given away to each attendee at no cost. The event is free and open to the public. High school students must present their student ID or proof of high school registration to enter the event and receive their free dress and accessory.
At the 2013 Prom Gown Giveaway, Abby's Closet gave away nearly 2000 prom dresses to women from 216 different high schools around Oregon and SW Washington. To date, Abby's Closet has collected more than 25,000 dresses and has given away over 12,000 prom gowns to appreciative and excited young women in the Oregon and Southwest Washington area.
About Abby's Closet
Abby's Closet, an Oregon-based nonprofit organization, is an all-volunteer group with a vision to help prom dreams come true. In 2004, Abby's Closet was co-founded as a nonprofit organization by Sally and Abby Egland (a mother and daughter) and a small group of friends. Its mission was to collect formal gowns and give them away, free of charge, to high school women.
Successfully into its tenth year, the group retains that one mission: to collect prom gowns and distribute them without cost to high school women who wouldn't otherwise be able to attend prom due to the expense. Receiving a gown presents an opportunity for young ladies to experience an once-in-a-lifetime event, and promotes the confidence essential to setting and attaining goals in their future. In its quest to make all high school girls feel beautiful and confident at their prom, Abby's Closet encourages girls to call or visit its website with any questions they might have. Abby's Closet is a nonprofit organization and all donations are tax deductible. The Abby's Closet message line is 503.722.1524 or you can visit the web site at http://www.abbyscloset.org.