From our sponsors: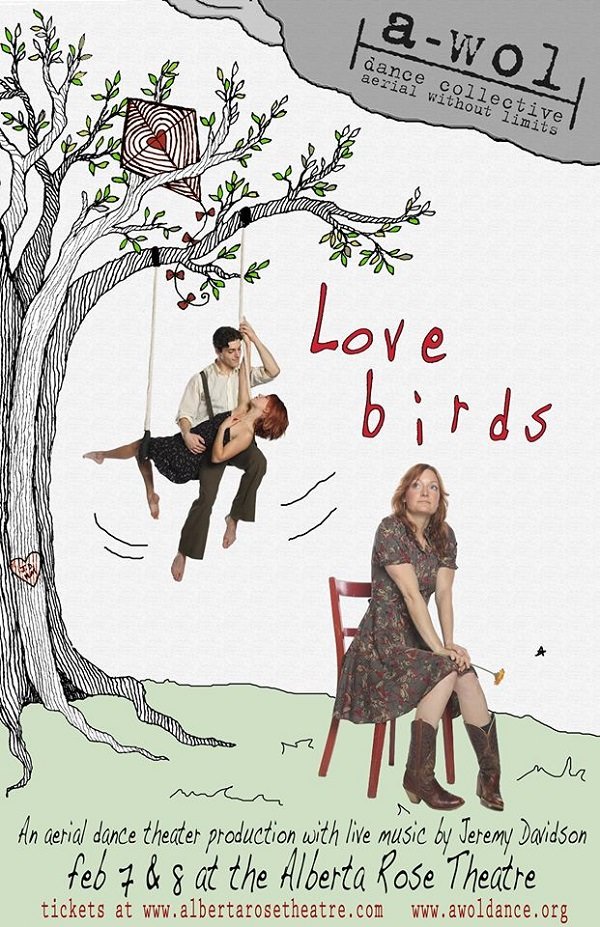 A-WOL Dance Collective presents
"Love Birds"
February 7 & 8, 2014
Doors 7 p.m. / 8 p.m. Show | $25 General / $35 Preferred | Minors OK w/ guardian
More info: albertarosetheatre.com
Alberta Rose Theatre
3000 NE Alberta St, Portland, OR 97211
(503) 719-6055
In a performance fit for the month of love, Love Birds tells the story of a shy girl on a search, hoping to find a love she can call her own.
On her way, she is charmed, mystified and challenged by a mischievous pair of birds that (hopefully!) lead her to her destiny. The combination of aerial performance, dance and acrobatics set to live music by Jeremy Davidson creates a dynamic atmosphere and a truly original experience. A perfect Valentine's Day date!
About A-WOL: A-WOL was created in 2003 as a "Collective." The four co-founders' intention was to form a group that could operate efficiently by using the different strengths and skills of all company members, both on and off stage.
Avoiding the cookie cutter feel, A-WOL consists of strong dancers each with a unique style or specialty, which gives the company's repertory an ever-evolving texture. Off stage, each member has a specific responsibility, from costuming to rigging equipment to being an educator in the community.
Mingling the worlds of dance and aerial, A-WOL dancers ignite a wonder and curiosity for what can happen when a human body takes flight. The physicality of their movement both on the floor and in the air, conveys striking fearlessness and unmistakable rigor. A-WOL dancers have been seen hanging from the trees in the middle of the forest to dangling from the ceilings of Portland's trendiest night clubs. Hip yet sophisticated, A-WOL has a versatility of style.