From our sponsors: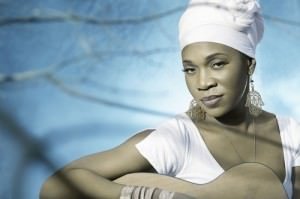 A SongVersation w/ India.Arie
September 22, 2013
Doors 7 p.m. / 8 p.m. | $49.50 ADV/$52 Doors
Tickets: aladdin-theater.com
Aladdin Theater
3017 SE Milwaukie Ave Portland, OR 97202
(503) 234-9694
Sometimes you have to step back to move forward. Coming to that realization—let alone taking that crucial first step—can be a daunting endeavor. Now on the other side of a self-imposed four-year hiatus, India.Arie returns with the most illuminating album of her career.
SongVersation (Soulbird/Motown, June 25) reunites the Grammy-winning singer/songwriter/producer with longtime writing partner/co-producer Shannon Sanders. Recorded in Atlanta and Los Angeles, India.Arie's fifth studio album features additional production from singer/songwriter David Ryan Harris and songwriter Michael Ruff. The result is a compelling snapshot of her hard-won breakthrough to simultaneous personal and artistic growth.
"This is where I've been for the last four years," reflects the singer. "I've struggled most of my career to feel comfortable with how things were, how I was treated, the politics of the music industry. I needed to pull back from the public eye to ground myself and rebuild my life and career. It's a process many of us go through: spiritual maturation, spiritual awakening, clearing out the old and starting anew."
Her inner renewal pulsates throughout SongVersation, starting with lead single "Cocoa Butter." The mid-tempo groove and image-rich verses mirror the soothing balm that is the song's namesake. "Your love is like cocoa butter on my heart … \ I show you my burns \ you show me lessons learned," sings a re-energized India.Arie. The singer exudes quiet power on the non-apologetic "Life I Know" as well as the empowerment-themed "Just Do You."