From our sponsors: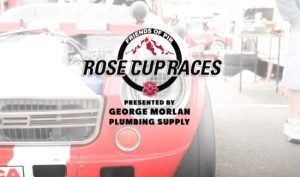 Rose Cup Races
July 7-9, 2017
7:30 a.m.- 6 p.m.
More info: rosecup.org
Portland International Raceway
1940 N Victory Blvd, Portland, OR 97217
(503) 823-7223
Tickets for the 57th running of the Rose Cup Races presented by George Morlan Plumbing are on sale now at RoseCup.com. This year's event will take place July 7 through July 9 at Portland International Raceway (PIR), 1940 N Victory Blvd. Gates are open from 7:30 am to 4pm daily.
A sanctioned event of the Portland Rose Festival, the Rose Cup Races is the premier amateur road racing event in the Pacific Northwest, featuring racing competitors from both the Oregon Region Sports Car Club of America and the Cascade Sports Car Club.
The event showcases seven classes of racing, including Big Bore GT, Spec Miata, Vintage, Spec Racer Ford, Small Bore, BMW Pro 3, and the Great American Stockcar Series (GASS), which provides high speed door-to-door racing in identically prepared NASCAR-like V8 ground-pounders. The race weekend also features for the first time drone racing from the Professional Aerial League (PAL), alongside freestyle exhibitions and drone education activities. Attendees can also enjoy car club corrals, vendor displays, and a variety of food and beverage concessions.
Tickets cost $25 for one three-day admission with parking. Individual day tickets run $5 for Friday, $8 for Saturday, and $10 for Sunday. Parking is $5 daily or $10 for a weekend pass. A motorhome pass includes two three-day entries and parking and costs $125. Admission for children ages 12 and under is free when accompanied by a paying adult.
A limited supply of two special tickets is being offered this year: the first is a "Ride of Your Life" ticket for $150, which includes one three-day admission with parking, a souvenir hat, an exclusive T-shirt, a race day program, a scheduled ride for two laps in an exotic street car or racecar on Friday or Saturday evening, and a tax deductible receipt. The second is a $50 VIP ticket that provides special access behind the scenes of the races and an entry to a drawing to win a ride in the Pace Car at lunchtime for either Saturday or Sunday; this VIP ticket also includes one three-day admission with parking, a souvenir hat and a race day program. Details for both tickets are available at the ticketing website.
Friday, July 7, features practice and qualifying for all seven classes; Saturday, July 8, presents two 20-minute races per class; and Sunday morning, July 9, features warm ups, last chance qualifying and a number of feature races; Sunday afternoon presents opening ceremonies, feature races, and the Rose Cup Winners Circle.
The Rose Cup Races was the first major event ever held at PIR in 1961, and has taken place annually ever since. The event is promoted by Friends of PIR and presented by George Morlan Plumbing.
About Friends of PIR
Friends of PIR is a 501(c3) nonprofit committed to the preservation and enhancement of Portland International Raceway (PIR) as a resource for those who use it, including both participants and spectators; sustaining and expanding PIR's civic contribution as an institution in North Portland; and providing guidance and support for the ongoing management of PIR in a manner that assures its ongoing value as a venue for motorsports and other diverse forms of recreation and entertainment. For more information, visit FriendsofPIR.com.
About Portland International Raceway
Portland International Raceway (PIR) plays host to a diverse array of events for participants and spectators of all ages, ranging from high speed road racing to motocross, car cruise-ins to bicycle racing, and swap meets to foot relays. Unique in that it receives zero tax dollars, the City of Portland Park provides entertainment to approximately 400,000 visitors each year. For schedule and event info visit PortlandRaceway.com.