Art installations incorporating lights will illuminate the City of Roses at the 2017 Portland Winter Light Festival. Showcasing large-scale, sculptural pieces in projection art primarily created by local artists, the festival will be held February 1-4 at OMSI.
From our partners: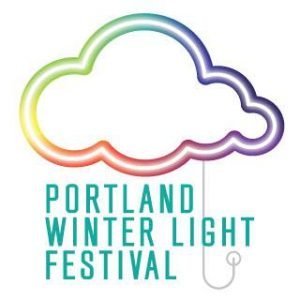 Portland Winter Light Festival
February 1-4, 2017
February 1 -2, 2017 from 6pm – 10pm;
February 3 – 4, 2017 from 6pm – 11pm
Free | All Ages
More info: pdxwlf.com
Oregon Museum of Science and Industry (OMSI)
1945 SE Water Ave, Portland, Oregon 97214
What we need in the dead of winter is a light festival! Something to bring us all together, outside at the darkest time of year. A getaway from the gloom in our lighted palace by the river.
Returning for its second year, the Portland Winter Light Festival will illuminate even more of Portland's cityscape, brilliantly awakening the city in the dark of winter into a glowing tapestry of light, color, artistry, performance and imagination February 1-4, 2017. Centrally hosted at OMSI and presented by Portland General Electric, this free, all-ages festival celebrates the spirit of winter and warmth of community by showcasing artists who dazzle visitors with innovative light-based artworks and performances.
The festival is an extension of the Willamette Light Brigade and is presented by Portland General Electric. In February 2016, over 30,000 attendees enjoyed nearly two dozen artists across the Southeast Waterfront, a glowing bike ride, silent disco, a light science talk series, performances, and more.  As of October 2016, 42 visual artist teams and nine light and fire performance troupes have been invited to the 2017 festival, ensuring a spectacular interactive experience guaranteed to captivate visitors from the Pacific Northwest and beyond.
"The Portland Winter Light Festival's inaugural year exceeded everyone's expectations, and we can't wait to do it again," says Artistic Director Chris Herring. "After traveling to Lyon, France and seeing a centuries-old city turned into a playground of light, science, art and community I realized that Portland was waiting for a similar transformation. Our city has always had the elements for a world-class festival, but nobody ever put the pieces together until our first year.  It's inspiring to see that Portlanders have so enthusiastically embraced ways to rally, celebrate, and unite with others during the darkest nights of the year."
Festival hours are from 6-10pm on February 1st & 2nd and 6-11pm on February 3rd & 4th. Parking at OMSI is $5 and is limited. Attendees are strongly encouraged to take public transportation. Look to www.pdxwlf.com for more information regarding transportation and parking.
Schedule
A dynamic schedule for the upcoming Portland Winter Light Festival has been published that builds on a historic first year, returning with more illumination and integration than before.
Pre-festival DIY bling your thing workshops are on January 21st and 29th. The festival takes place on the evenings of Wednesday, February 1 through Saturday, February 4 from 6 – 10 pm Wednesday and Thursday and 6 – 11 pm on Friday and Saturday.
Featuring a multitude of artists and performers, this year's festival also has amazing community installations and affiliate events. Highlights of this year include complimentary rides on the Portland Spirit and Sternwheeler, the Glow Jam and Silent Disco, a lantern parade and an illuminated bike ride.
Resources for attendees can be found here. We are thrilled that the Portland Streetcar is also offering complimentary rides to the festival and joining the Portland Spirit and TriMet as sponsors of the festival this year.
Photos