From our sponsors: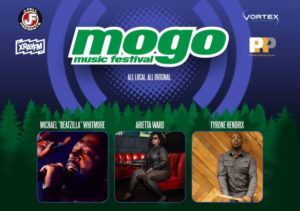 MOGOfest: PDX Funk & Soul Par-tay!
March 4, 2017
9 p.m. | $10 | 21+
More info: Facebook
Goodfoot Pub & Lounge
2845 SE Stark St, Portland, Oregon 97214
MOGO Music Festival presents: PDX Funk & Soul Par-TAY!
Michael BeatZilla Whitmore // Arietta Ward // Tyrone Hendrix (more TBA)

#MOGOFest is a weekend of Portland-area original music curated by some of the city's most influential music fans & musicians. More info at mogofest.com
When Farnell Newton puts together a night of music in Portland, you KNOW it's going to be slammin'! Here's a few of the artists lined up so far:
Michael "Beatzilla" Whitmore – Michael Whitmore otherwise known as Beatzilla is a staple to the Portland music scene. Whitemore has performed, written, and produced great music with many artists in the Pacific NW from Tony Ozier, OPUS, Farnell Newton, and is currently in the studio recording on the new Pleasure record. No matter the genre or style of music Whitmore always brings his unique style of singing that gets audience moving and grooving on the dance floor.
youtube.com/user/Beatzilla
Arietta Ward – The daughter of the Northwest's Legendary pianist, the late Janice Marie Scroggins, Arietta's diverse musical background and versatility has allowed her to share the stage with great artists such as: Esperanza Spalding, Obo Addy, Linda Hornbuckle, Lloyd Jones, Curtis Salgado, LaRhonda Steele, Tony Ozier, Ken DeRouchie just to name a few. With high energy, humor and passion, the unique sound experience of Etta's World will surely have you wanting more.
facebook.com/arietta.ward
Tyrone Hendrix – Born and raised in Oakland, California, Tyrone Hendrix was brought up surrounded by the rich local musical influences of the Hawkins Family; Shelia E.; Tony, Toni, Tone; and Con Funk Shun. He got his musical start in church and, from there, honed his skills in high school with the renowned Castlemont Castleers. In 2004, Tyrone relocated to Portland, Oregon, where he expanded his repertoire, adding elements of hip-hop, jazz, funk, soul, and Americana. While he is a self-described constant student of the art of drumming and music, he also gives back to the music community as a teacher through drum clinics and giving lessons to musicians seeking to hone their skills.
tyronehendrix.com/
MOGO Music Festival — ALL LOCAL / ALL ORIGINAL — March 3-4, 2017. Venues include Doug Fir, Star Theater, Dante's, Mission Theater, Secret Society, The White Eagle, Ponderosa Lounge, The Goodfoot, Alberta Street Pub, The Gemini, Wild Hare Saloon (Oregon City), and Kelly's Olympian.