From our sponsors: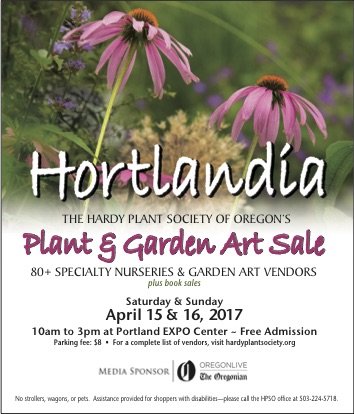 Hortlandia Plant and Art Sale
April 15 to 16, 2017
Saturday 10 a.m. – 3 p.m.
Sunday: 10 a.m. – 3 p.m.
FREE | All Ages
More info: hardyplantsociety.org
Portland Expo Center – Hall E
2060 North Marine Drive, Portland, OR 97217
Welcome to Hortlandia! One of the largest plant and garden art sales in the Pacific Northwest. The Hardy Plant Society of Oregon has created one perfect word to capture all the wonders available to gardeners attending this annual, signature event. Whether you seek the rare and unusual or you like to collect the hottest new plants, Hortlandia has something for you.
Nurseries
Hortlandia brings together almost sixty nurseries under one roof. A visit to Hortlandia makes it possible to see all best nurseries the Northwest has to offer in less than a day. You will find specialty nurseries that are rarely, if ever, open to the public as well as wholesale nurseries that aren't usually accessible to individual gardeners. The unparalleled plant selection at Hortlandia includes everything from Pacific Northwest natives to exotic species native to all parts of the globe. Many participating nurseries are home to some of our region's best known plant-seekers and hybridizers. These talented individuals will be on-hand to discuss the latest plant introductions, and they can help visitors find the perfect cultivars to take home to their gardens. A complete list of participating nurseries is available: www.hardyplantsociety.org/hortlandia
Garden Art
Not to be outdone by the nurseries, dozens of artists will be on hand at Hortlandia to help you find the perfect one-of-a-kind artwork to complement your garden. This juried show features works in copper, wrought iron, glass, textiles, wood, concrete, stone, and recycled materials of all sorts. If you need a new piece of garden furniture or just a fanciful planter, there will be a unique piece of art for you. If you can't find just what you are looking for, perhaps a custom designed piece is what will make your garden stand out. Visit with the artists of Hortlandia who can create something just for you.
Book Sale
The Hardy Plant Society's book committee continues a long tradition of providing new and used publications for gardeners with all sorts of interests. Whether you are looking for a back-issue of your favorite garden magazine, a good general reference or the latest new titles, HPSO members will help you find just the publication you have been looking to add to your horticultural library.
Parking
Parking is $8 per space, per entry. Carpools of three or more are $7.
Exhibitor parking is $8 and includes in and out privileges.