From our sponsors: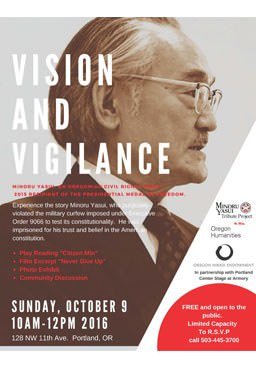 Vision & Vigilance with the Oregon Nikkei Legacy Center
October 9, 2016
10 a.m. – Noon | FREE (RSVPs Encouraged)
More info: pcs.org
Gerding Theater at the Armory
128 NW Eleventh Avenue, Portland, Oregon 97209
503-445-3700
One person's actions during times of uncertainty and fear can inform and inspire us today in the face of systemic racism and bigotry as exemplified by immigration policies, racial profiling, lack of due process, and discrimination. We need new heroes to light our way. Yasui's leadership brought diverse and disparate communities together to tackle critical civil and human rights issues. Vision and Vigilance is a catalyst for inclusion and understanding among diverse communities throughout Oregon.
Join a panel of diverse community leaders who will engage participants in dialogue, reflection and inspiration in facilitated roundtables. The community facilitators will share their knowledge and connect their work in civil and human rights to the work of Minoru Yasui. Vision and Vigilance addresses the ongoing need for individuals and communities to be advocates for the needs of their communities.
Panelists include: Oregon Jewish Museum, Oregon Nikkei, Urban League of Portland, Muslim Educational Trust, etc.