From our sponsors: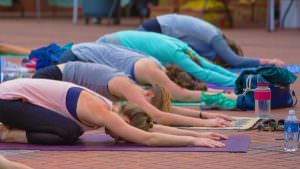 Portland Yoga Day
June 21, 2016
9 a.m. – 3 p.m. | Free | All Ages
More info: yogadayportland.com
Pioneer Courthouse Square
701 SW Sixth Avenue, Portland, OR 97205
Yoga Day Portland is a free, family-friendly day of yoga inspiration with classes, workshops, live music, children's activities, healthy food and more! Everyone is invited to participate in this fun, festive and uniting event sponsored in part by Prana, Athleta, Fred Meyers and The Deep Peace Collective.
International Day of Yoga was declared by the United Nations with the support of 175 countries. The intention of the resolution is to promote harmony and peace for humanity, which is also the essence of Yoga.
Yoga Day Portland is for people of all ages and fitness levels, including those with little or no yoga experience, to join together with friends, family and the Portland community in celebration of a movement toward inner and outer peace.
Highlights include six main stage yoga classes with fabulous local Portland teachers, starting off with a classic Solstice Sun Salute Flow with Jill Knouse, live music during yoga classes, kids yoga and crafts, Jai Ho! Bollywood Dance Party with DJ Prashant, Athleta Yoga Class and Fashion Show and all levels technique and focus workshops including Yoga for Bigger Bodies, Core Fundamentals and Spanish Speaking Yoga Basics!