From our sponsors: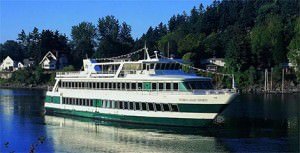 Portland Spirit Cruise to Astoria
May 11, 2016
8:30 a.m. | $110 per person, $88 for Groups of 15 or more
More info: portlandspirit.com
Caruthers Landing Dock
110 SE Caruthers St, Portland
The broad waters of the Columbia River will carry you from Portland's vibrant harbor through the forest covered coast range on an adventure filled day re-tracing the route of Lewis & Clark, the famed American explorers. Ocean freighters and tugboats share our route to Astoria, a quaint scenic river town that is filled with history.
This day long adventure covers 60 miles of the Willamette & Columbia River. Pass under the bridges that make Portland famous, and travel through Portland's industrial area to where the Willamette meets the Columbia. You'll be treated to freshly prepared Northwest Cuisine and Captain's Narration along the way.
Wednesday, May 11, 2016
Board 8:30am – Caruthers Landing Dock Depart 9:00am Arrive approximately 6:00pm in Astoria Immediately motor coach for return trip to Portland. Prices from $110.00/person and $88.00/person for groups of 15 or more Includes: Captains narration, continental breakfast, buffet lunch, dessert, coffee, hot tea, gratuity and motor coach transportation. Complimentary parking available.