From our sponsors: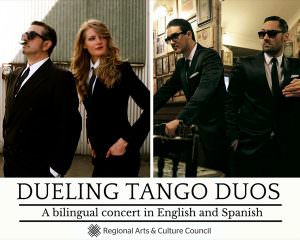 Dueling Tango Duos: A Playful Musical Exchange in English and Spanish
August 5, 2016
7:30 p.m. | $20 | All Ages
More info: Facebook
The Old Church
1422 SW 11th Ave, Portland, Oregon 97201
Portland's own Duo Kitty-Raphael (Megan Yvonne & Pepe Raphael) along with Duo Fuertes -Varnerin (Agustin Fuertes & Ariel Varnerin from Buenos Aires) will share the stage in this original, bilingual, bicultural performance, a friendly exchange of lyricism and harmony in both English and Spanish.
This concert is a special project partially funded by the Regional Arts & Culture Council (RACC) to bring together two cultures of tango to reveal the meaning and mystery behind this beautiful genre of music. It will be a concert in English and Spanish as both duos will engage in a friendly rivalry of musical expression: Duo Fuertes-Varnerin will perform classical Argentine tangos in Spanish while Duo Kitty-Raphael will interpret the same songs in English.
Expect a fun-filled evening of call and response duets, harmonizing melodies, and discovering the beautiful history of this beloved art form. Printed programs with translated lyrics included!
For more information visit www.meganyvonne.com/tangoduel