From our sponsors: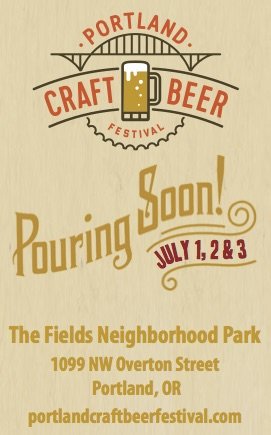 Portland Craft Beer Festival
July 1-3, 2016
Friday, July 1, 2016 – 12pm to 10pm 21+ ONLY
Saturday, July 2, 2016 – 12pm to 10pm 21+ ONLY
Sunday, July 3, 2016 – 12pm to 7pm FAMILY DAY – all ages welcome!
$25 | Tickets: portlandcraftbeerfestival.com
The Fields Neighborhood Park
1099 NW Overton St, Portland, OR 97209
Per both Travel and Leisure and Beer Connoisseur, Portland, Oregon is the best beer city in the world!
The Portland Craft Beer Festival (PCBF) is an annual opportunity for the legal-drinking-aged public to taste a substantial representation of beers originating from Portland, Oregon breweries. Only beers, plus ciders and wine, crafted within the city limits of Portland are featured at the PCBF which makes it unique and different from other beer festivals.
Look for our big outdoor party at the Fields Neighborhood Park  annually the first weekend in July, helping to kick off Oregon Craft Beer Month. We look forward to our next celebration of Portland craft beer July 1, 2 & 3, 2016. Tickets are available now through Bold Type Tickets.