From our sponsors: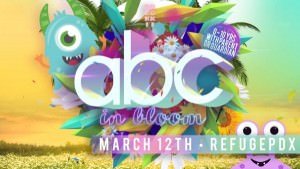 ABC // In Bloom Dance Party
March 12, 2016
10 a.m. – 2 p.m. | Tickets on Sale in February
More info: Facebook
Refuge Pdx
116 SE Yamhill St, Portland, Oregon 97214
Building on our launch success in October at "You Light Up My Life", ABC is excited to announce the continuation of our family dance series with ABC In Bloom. So get out your dance shoes and your party flare, and join us on March 12 at the Refuge PDX in SE Portland. Enjoy an all ages dance party for parents and their mini people with lots of special features designed to engage all ages in fun:
FAMILY DANCE PARTY
Time to dust off those dancing shoes and show your kid what your are made of. Performances by: Mercedes, Jason Burns and Acoustic Minds!!
INTERACTIVE INSTALLATIONS, BOUNCE HOUSE & MORE
Discover glow, up close and personal through child inspired art installations. Take a break from the dancing to jump in the bounce house, stop by a craft station, or play on the hopscotch.
INFANT SENSORY PLAY ZONE
A safe place for those who came to party but who haven't learned to dance… or walk. Lots of fun things to explore the senses.
VISUALS AND INTERACTIVE DISPLAYS
by: Ion Lazer Productions
FACE PAINTING
Visit Jessica Anne Murch for some some extra flare for your face!
STORYTELLING, SING ALONG & QUIET ZONE
Quiet room available with changing tables, books, toys and cozy dimmed light if you need a break from the commotion. Featuring hourly storytelling, special sing along by Gregorio Sanchez and quiet play activities.
FUN FAMILY PHOTOBOOTH
Stop by our family photobooth for some fun, silly photos with you and your kids. Our fabulous photographer, Cristal Bennett will be hosting and will upload digital copies for free!
ON-SITE FOOD AND FLARE VENDORS
Pick up some extra party flare or a bite to eat from one of our on-site vendors. or grab your kids some rave wear by Opal cake!!
HOSTED BY: David D. Daniels
COMMUNITY SUPPORT: Each event we donate a portion of the proceeds to support a local nonprofit working with kids. ABC In Bloom is proud to support: Playworks Northwest – Believe in the power of play!