From our sponsors: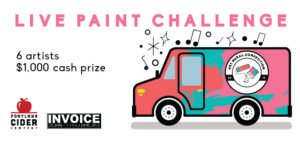 Live Paint Challenge
August 26, 2016
6-9pm | FREE | 21+
More info: Facebook
Clackamas Taproom & Cidery
8925 SE Jannsen Road Bldg F, Clackamas, Oregon 97015
This special Food Cart Friday evening will include the Live Paint portion of our Art Mural Competition. 7 artists will paint large canvases (3×5 foot) over the course of a couple hours – then you get to help us choose the winner to paint our keg cooler!
Each artist will portray their concept for what the final mural should be, encompassing the brand values of Portland Cider Co. in their own individual artistic interpretation.
Attendees can watch the artists while they work, voting with paper ballots for their top 3. After the live paint challenge, the artwork will be hung at Portland Cider House for 10 days, to get more votes! Help us spread the word.
Special guest vendors include (anticipating 10-15):
Invoice Pdx & Last Bus Clothing
Slap Stickers from Arrex & @voxxromana (IG)
Chris Haberman (competing artist!)
Michelle McCausey (competing artist!)
Caitlynn Abdow Art
Onsite screenprinter! More details to come, but there will be 4 custom designed Portland Cider Co. t-shirts in collaboration with Invoice Pdx & Last Bus Clothing.
More to Come
Slap Sticker Wall!
Slap a sticker on our cider makers office wall, tagging your place permanently at Portland Cider Co. Pictures are encouraged.
Featured Artists in Live Paint Challenge:
Chris Haberman
Stefen Ways
Michelle McCausey
Matthew Hamilton
Wolf LBC
Final artist TBA
This competition is put together in partnership with Invoice Pdx.
This evening is also part of the Food Cart Friday series, featuring Porter's Catering & local musican, Cary Samsel. Food available beginning at 6pm, musican playing 6-8pm.