From our sponsors: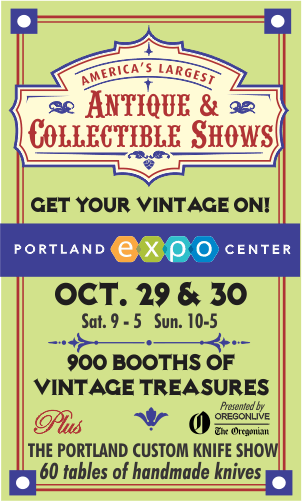 Antique & Collectible Show
October 29-30, 2016
General Admission: $7 | Saturday: 9am to 6pm | Sunday: 10am to 5pm
Early Admission: Friday: 10am to 6pm | $30 (good for both days)
More info: christinepalmer.net
Portland Expo Center
2060 N. Marine Dr., Portland, OR 97217
The Fall version of the largest vintage show in the area is coming up on October 29 & 30 at the Portland Expo Center. There will be hundreds of outstanding antique collectors and dealers with more than 900 booths available to view – this is the big one – don't miss it! If you are a treasure hunter, decorator, collector or just like to find pieces from your past, the Fall Expo Antique & Collectible Show is for you. Visit www.ChristinePalmer.net for more info and to buy tickets online!
Attending an Antique & Collectible Show can be an emotional and fun-filled journey into the past. Seeing items from your past provoke wonderful memories such as the toys your mother threw away, your grandmother's cookie jar, garden antiques, board games and memorabilia. Pricing for many of the treasures you find at the show are modest and there is nothing like coming home and unwrapping your newly found discoveries. For many it's a second chance at owning an item that you may have thought you'd never see again in your lifetime.
At the summer show in July, there were a lot of decorative garden items, cool, cute vintage dresses definitely reflecting the time of the year. As we shift into fall, there are more vintage holiday items for Halloween and Christmas.
This show also includes a show within the Antique Show – The Portland Vintage & Custom Knife Show. Some knife makers forge their own blades and others make the handles from antlers and other materials. They are one of a kind functional works of art. The show also includes vintage bladed items, ranging from Japanese swords to hatchets and vintage folding knives. Exhibitors for the Vintage & Custom Knife Show are coming from all over the Pacific Northwest. Admission for the Antique Show admits you to the Knife Show as well.