From press release: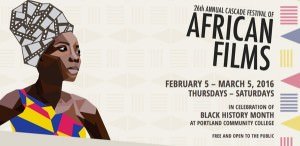 2016 Cascade Festival of African Films
February 5-March 5, 2016
Free
More info: africanfilmfestival.org
Location: Portland Community College
The Cascade Festival of African Films is set to embark on its 26th year with an exciting slate of new films from across the African continent. The free festival, which offers Portlanders a rare opportunity to see Africa through the eyes of Africans, opens with back-to-back screenings of "The Rooftops," by Algeria's preeminent filmmaker, Merzak Allouache, at the Hollywood Theatre on Friday, February 5th at 6 pm and 9:15 pm.
This year's films hail from 11 African countries and highlights include visiting Ethiopian director Yared Zaleke, and "The Power of Arts and Music" documentary series.
Visit www.africanfilmfestival.org for further information on our free films shown at PCC's Cascade Campus Moriarty Hall and at Hollywood Theatre.
———————————————
Related Portland Events
———————————————

———————————————
Our new Portland Events App for PDX Pipeline is now available for iPhones, Android phones and iPads!
Now, you can have all of the great Portland events from our website in the palm of your hand when you're out on the town.
Download the App for iPhone here
Download the App for Android here
–————————
———————————————