From our sponsors: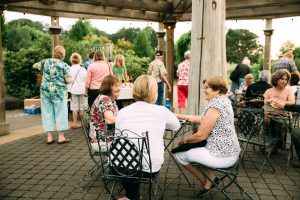 Art in the Garden
July 15, 2016 – September 30, 2016
General $20 ADV, $25 Doors
Garden Members $5 ADV, $10 Doors
More info: oregongarden.org
The Oregon Garden
895 West Main Street, Silverton, Oregon, 97381
503-874-2500
The Oregon Garden has announced the return of Art in the Garden presented by Capitol Subaru, a summer addition that highlights art installations by 10 local artists placed throughout the Garden. These pieces can be viewed anytime during regular Garden hours, July 15 through September 30, with paid Garden admission.
Art in the Garden will kick off with an artist reception on July 15 from 6:30pm to 10pm, where featured artists will give talks about their installations, while guests enjoy live music, light appetizers and beer and wine tasting. Tickets include Garden admission, one glass of wine or beer, artist talks, art workshop sign-ups, hors d'oeuvres and live music by Seahorse, a folk American band led by Willamette Valley-based guitarist and songwriter Rich Swanger. Advance tickets are $20 for non-members, or $25 at the door, and $5 for Oregon Garden members with a reservation, and $10 at the door. Tickets are available online at www.oregongarden.org/events/art-in-the-garden/.
Art in the Garden features 10 installations in total, four of which are being built specifically for The Oregon Garden, including pieces by Tyler FuQua, David Hillesland, Jacob Sorenson and Jill Torberson. The remaining six exhibiting artists are Mark Brody, Mark Collins, Lowell Duell, Richard Hays, Scott Kuszik and Denise Sirchie. All of the pieces will be available for purchase.
FEATURED ARTISTS
FuQua is a festival artist based out of Eagle Creek whose piece is titled "Wind in the Willow." It will play with the organic nature of trees in contrast with the rigid nature of metal. The Wind in the Willow display will not only be pleasing to the eyes, but to the ears as well.
Hillesland, founder of Oregon Chainsaw Sculptures, will be displaying "Chaise-ing Dreams;" a bench and chaise lounge carved from the remains of a Fir tree. Believing the pace of today's lives has increased exponentially, Hillesland's installation takes the viewer outside of the fast pace to a simpler time full of wonder and curiosity.
Sorenson is a Salem-based artist who works with a broad array of materials to explore his curiosity in the convergences between nature, culture and philosophy. He is creating a piece using wood shingling, a thatched roof effect, and hand manipulation for texture – all designed to challenge perceptions and assumptions. The piece is a loose representation of the Sasquatch and Bigfoot concepts and nods to the typical sighting experience.
Torberson is a Portland-based artist whose work in steel epitomizes a light and minimalist design aesthetic. She is creating garden stakes that will create a repeated rhythm both in form and size, filling space in a light and linear manner. Her piece explores the idea of horizon and how it relates to the highest elevation in the garden.
EXHIBITING ARTISTS
Brody is a Portland-based artist who focuses on mosaic projects for the garden. He will display a variety of pieces that are essential in any garden décor. He works on both 2D and 3D forms with a style that is bright and traditional, making his pieces timeless and versatile.
Collins has developed Pop Garden, a fun and innovative way to decorate gardens and help the environment along the way. Pop Gardens are made with reclaimed materials and innovative processes to create unique and compelling décor for the garden. Collins' installation will be set up in the Children's Garden and will showcase the Pop Garden's flexibility to look wacky and zany, or refined and classic.
Duell is a glass artist from Glide who specializes in hand-blown glass and welded metal art especially made for outdoor display in the garden. He will be exhibiting "glass balloons" and "green clunkers," durable and unique displays made from hot glass and recycled metal car parts. His colorful, whimsical and thought-provoking work is displayed in groupings that complement gardens of all types.
Hays is a Beaverton-based artist who focuses on nature-inspired pieces made from welded steel. He produces brightly colored flowers, as well as complex trees. His intent is to contrast the outsized against the natural stage of the real thing.
Kuszik is a Eugene-based artist who came up with his own technique of power drawing on copper to create very unique effects. His pieces feature oiled and torched wood paired with hand manipulated copper and varnishes. His installation will play with light, movement and ancient Japanese techniques.
Sirchie is a mosaic artist from Portland with a distinct multi-media mosaic style. She will display a mosaic bust titled "Summer" created from recycled materials including a vintage necklace mannequin. Her process includes dissecting various porcelain and china serveware for flowers to grace the art and tumbling glass to give it a quiet presence within the Garden.
About The Oregon Garden
The Oregon Garden offers more than 80-acres that showcase the natural wonders of the Pacific Northwest with more than 20 individual themed gardens and related attractions. The mission of The Oregon Garden is to welcome and inspire all visitors with an appreciation for the extraordinary ecology of the Pacific Northwest, and to provide a meaningful educational experience for gardeners of all skill levels and ages. The Oregon Garden offers memberships that help support new improvements and visitor programs.