From our sponsors: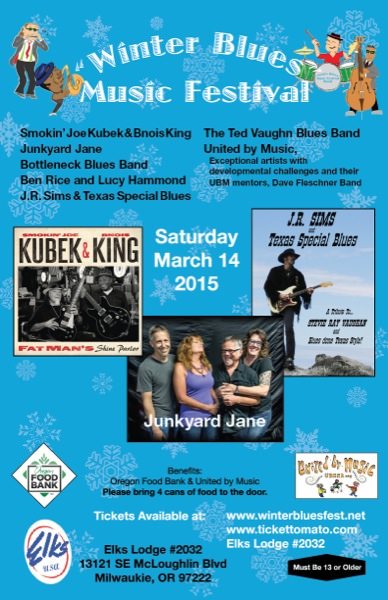 Winter Blues Festival
March 14, 2015
Doors 2:30 p.m. / Show 3 p.m.
General $20 ADV / $25 Doors / $10 Kids 13-18
See website for camping prices
More info: winterbluesfest.net
Elks Lodge #2032
13121 SE McLoughlin Blvd, Milwaukie, OR 97222
An idea born over a kitchen counter to counteract the dreary days of winter with top blues music and while giving back to charity is now in its fourth year. The Winter Blues Fest has rapidly become a "Go To" event. This event has enjoyed support from local businesses at locations such as the Copper Penny Pavilion, the Bob White Theater on Foster. This year's event will be held at the Milwaukie Elk's Lodge in Milwuakie, Oregon, an organization also known for giving back.
The ballroom on March 14th, 2015 will be host to a musical lineup that mirrors what you would see on blues festivals stages throughout the country right in our own backyard.
Featuring:
 Smokin' Joe Kubek & Bnois King
 Junkyard Jane
 Bottleneck Blues Band
 Ben Rice and Lucy Hammond
 United by Music, North America, featuring the Special Olympics of Singers with Disabilities
 J.R. Sims & Texas Special Blues
 The Ted Vaughn Blues Band
The Winter Blues Fest is known for bringing in the best blues entertainment in the past including multi award winning Janiva Magness and Curtis Salgado. This year is no exception. Headliner Smokin' Joe Kubek with Bnois King, one of the most talented guitar tandems in any genre, have been thrilling music fans all around the world with their red-hot Texas rockin' blues for twenty-five years. They've developed into a dynamic musical tour de force, with Joe's flame-throwing guitar work complemented by Bnois' cool, jazz-inflected playing and soulful vocals. Their incendiary live shows feature two top flight guitarists intuitively locked in with each other and backed by a firepower rhythm section, making for a powerful and irresistible combination.
Junkyard Jane from Tacoma, Washington rose by night in the tide flats of Tacoma, Washington from a strange and wondrous brew of blues, swamp gas, rockabilly, old engine parts, country, motor oil, folk, funk and used kitty litter. Their briefcase full of kudos includes The Washington Blues Society BB Awards for "Best Band", "Best NW Recording" "Entertainer of the Year", and a 2014 nomination for "Hall of Fame Band". Like all true originals, they display a Creole blend of influences that they affectionately call "Swampabilly Blues".
The Ted Vaughn Band from Salem, Oregon. The Texas bluesman Ted Vaughn fronts this group of blues pros with decades of recording and performing under their belts. Their raucous, high energy live performances are gaining legions of fans worldwide. Individually, the members have shared venues with top artists such as John Fogerty (The Golliwogs, Creedence Clearwater Revival ), Timothy B. Schmidt (The New Breed,The Eagles), Ted Nugent, Kenny Loggins, blues icon Doug MacLeod, and Grammy nominee John Nemeth. The Band has electrified blues lovers at some of the largest festivals in the country as well as smaller, more intimate venues. Due to the popularity of their original music, the band was listed as one of the "Top Ten" bands for worldwide airplay on Jango internet radio.
J.R. Sims & Texas Special Blues, just back from a show in Las Vegas and local favorites Bottleneck Blues Band, and Ben Rice and Lucy Hammond, an act that garnered international attention when they advanced to the finals of the renowned International Blues Challenge in Memphis, from over 250 acts from around the world.
Returning to the Winter Blues Music Festival for the 2nd year is United by Music North America which is a performance-based entertainment group for musically talented people who have developmental delays and intellectual challenges. Winter Blues Music Festival is excited to have this exceptionally talented band at the festival, this year led by the Dave Fleschner Band. www.UBMNA.org