From press release: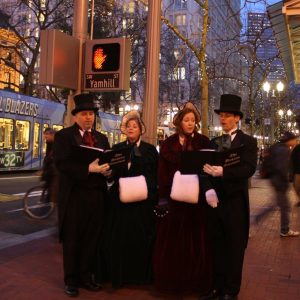 The Great Figgy Pudding Caroling Competition
December 11, 2015
5:30 p.m. | FREE | All Ages
More info: thesquarepdx.org
Pioneer Courthouse Square
701 SW 6th Ave, Portland, OR 97204
On Friday, December 11th Portland Mall Management, Inc. is bringing a caroling competition to the heart of downtown!
The Great Figgy Pudding Caroling Competition is a fun and festive event that will bring caroling groups of all ages to the heart of downtown. Originally held throughout Downtown in the early 90s, Pioneer Courthouse Square and Portland Mall Management, Inc. are excited to resurrect this free and fun caroling event! The name comes from the old English Carol that begins "we wish you a Merry Christmas" and in a later verse, carolers demand a reward for their singing "go bring us some figgy pudding!"
This FREE caroling competition will be held on Friday, December 11, 2014, rain or shine starting at 5:30 p.m.. After grabbing a free cup of warm hot cocoa in Pioneer Courthouse Square, more than a dozen caroling groups will spread holiday cheer along SW Yamhill & Morrison Streets. Each caroling group, composed of students, men's and women's choirs and even a gaggle of Pirates, will sing their favorite holiday carols to shoppers and visitors in Downtown. After an hour of caroling, the competition will gather in Portland's Living Room for a sing off. The group with the most applause will be crowned The Great Figgy Pudding Caroling Competition winner and will receive the grand prize of $1,000!
———————————————
FREE PORTLAND: We give out 100s of $$$ in free tickets every week including to many of the top music and art venues in Portland. Join our newsletter if you like free stuff!
———————————————
Related Portland Holiday Events and Info:
———————————————
Our new Portland Events App for PDX Pipeline is now available for iPhones, Android phones and iPads!
Now, you can have all of the great Portland events from our website in the palm of your hand when you're out on the town.
–————————
———————————————