From our sponsors: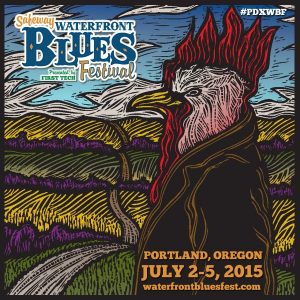 Waterfront Blues Festival & Fireworks Show
July 2-5, 2015
More info: waterfrontbluesfest.com
Tom McCall Waterfront Park
SW Naito Pkwy Portland, OR 97204
Passes are on sale to the public for the 28th annual Safeway Waterfront Blues Festival, presented by First Tech Federal Credit Union, on July 2 – 5, 2015. Passes can be purchased at TicketTomato.com.
Headliners such as Buddy Guy, Gregg Allman, Galactic with Macy Gray, Allen Toussaint, Charmaine Neville, Phil & Dave Alvin, The Paladins, Devon Allman and Chubby Carrier will perform over the July 4th weekend to benefit Oregon Food Bank's mission of fighting hunger and its root causes.
"Proceeds from all festival passes benefit Oregon Food Bank, which hasn't seen a dip in the demand for food assistance in four years," said Laura Golino de Lovato, director of development, marketing and communications at Oregon Food Bank. "Passes range from $35 for the early-bird Basic Blues Pass to the VIP experience at $1,250 for the Blues Patron Pass."
The following is information about the four-day passes that will be offered this year:
BLUES BASIC PASS ($35 early bird / $40 regular) — 4-day pass, priority re-entry.
BLUES BUDDY PASS ($70 early bird / $85 regular) — 4-day pass, early entry, priority re-entry, commemorative Blues Buddy button and access to After-Hours Concerts at the Marriott.
BLUES BENEFACTOR PASS ($300) — 4-day pass, early entry, priority re-entry, access to viewing area with seating close to the front of the main stage, access to central stage viewing area with shade, 4 food and drink coupons, admission to After-Hours Concerts, t-shirt and much more.
SOLD OUT LAST YEAR!
BLUES PATRON PASS ($1,250) — 4-day pass, priority on-stage seating at two main stages, access to central stage viewing area with shade, invitation to Blues Patron function to meet fellow patrons, 4 food coupons, redeemable from festival vendors, access to the sponsor hospitality pavilion, admission to After-Hours Concerts, parking, t-shirt,

Sunday

brunch and many other VIP perks.
SOLD OUT LAST YEAR!
Also on sale are tickets for DME Blues Cruises for $25 (day cruises) and $35 (evening cruises), as well as $10 tickets for After-Hours Concerts on Friday, July 3 and Saturday, July 4 at the Marriott Ballroom.
This year, individual day or Super Sunday passes will not be sold. General public can attend the festival each day for a suggested minimum donation of $10 at the gate, which provides about 30 meals to people in need.
"Last year, 40% of festival attendees did not contribute with a gate donation or pre-purchased pass," said Laura Golino de Lovato. "For 28 years, the Waterfront Blues Festival has relied on the generosity of sponsors and attendees to make this festival possible. We need the public to contribute their share."
Donations of food are also accepted at the gate; however, Oregon Food Bank can utilize cash donations more effectively by purchasing most-needed items in bulk.
For lineup, passes, artist bios and more, visit waterfrontbluesfest.com.
About Waterfront Blues Festival
Since 1988, Oregon Food Bank has produced the Waterfront Blues Festival to raise funds and awareness to fight hunger in Oregon and Clark County, Washington. As Oregon Food Bank's largest annual fundraising event, this Portland flagship festival has become a treasured tradition for locals and visitors alike; it is the largest blues festival west of the Mississippi and the second-largest blues festival in the nation. Since its inception, the festival has raised $10 million and 815 tons of food to fight hunger in the region.
Major sponsors: Safeway, First Tech Federal Credit Union, Coors, Delta Music Experience, Deschutes Brewery, FedEx, iQ Credit Union, KINK.fm, KOIN-TV, The Oregonian
Supporting sponsors: Capital One, Caring Ambassadors, Health Net and Schwindt & Co.
More information: waterfrontbluesfest.com | oregonfoodbank.org