From our sponsors: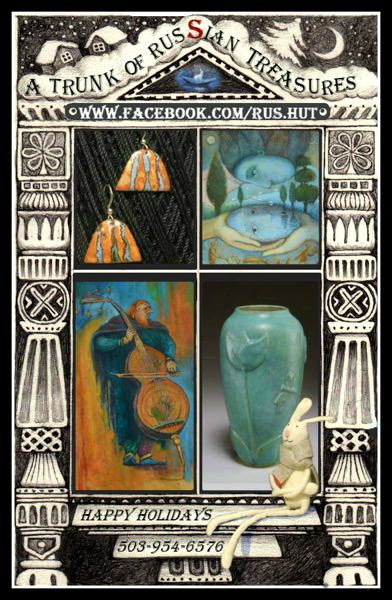 A Trunk of Russian Treasures
December 1-31, 2015
Mon-Thu: Noon – 5 pm
Fri-Sat: Noon – 8 pm
Sun: 11 am – 5 pm
more info: Facebook
Location: 325 NW 6th Ave, Portland, Oregon
As the days grow shorter and colder, you may find yourself thinking of the approaching holiday season. So many gifts to buy! Everyone is searching for something meaningful, something unique.
Our Trunk of Russian Treasures, filled to the brim with handcrafted goods, is the best place to find something one-of-a-kind!
We are a business with heart— a small, family owned and operated affair. All of us are passionate about art and handcrafted goods.
Elena Markova, the matriarch of our family, is a famous artist with over 20 exhibitions under her belt. She is a recent transplant from Moscow, Russia, and paints deeply spiritual, magical paintings. Trifon Markov, an up-and-coming young artist and graduate of an art school in Moscow, is currently working on a series of paintings titled "Whimsical Musicians". Trifon and his younger brother Vasily, are professional jewelers, specializing in enameling, a unique technique for layering glass on metal.
We also host works from guest artists. July —, works with wool— everything from the softest slippers to unique toys and jewelry. Meaghan —, specializes in ceramics, making delightful vases as well as colorful, carefully decorated dishware.
And as the lid of the sturdy, weathered trunk creaks open— you wonder, what sort of treasure will I find within?