From our sponsors:
2015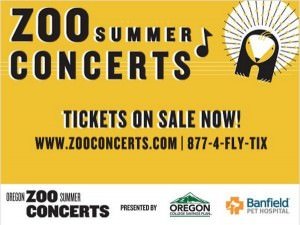 Oregon Zoo Summer Concerts
Tickets on sale April 24, 2015
For full schedule & tickets, see zooconcerts.com
Get Your tickets early with pre-sale code 'CHEETAH'
With wah-wah guitar rave-ups like "25 or 6 to 4" and soft-rock tearjerkers like "If You Leave Me Now," Chicago ruled the pre-disco pop charts, reeling off five straight No. 1 albums and 16 Top 10 singles in the 1970s.
The self-styled "rock 'n' roll band with horns" — which ranks No. 13 on Billboard's all-time Top 100 artists list — will be at the Oregon Zoo June 21, playing "Saturday in the Park" on a Sunday and kicking off a summer's worth of fantastic music.
Tickets for the zoo's 2015 summer concert series — presented by the Oregon College Savings Plan and Banfield Pet Hospital — go on sale at 10 a.m. Friday, April 24.
"It isn't summer in Portland until you've spent a warm evening listening to some great music on the concert lawn," said Teri Dresler, interim zoo director. "And the best part is knowing these shows benefit the zoo's programs for animal welfare, education and conservation. Our summer concerts would not be possible without the generous support of our presenting sponsors, the Oregon College Savings Plan and Banfield Pet Hospital."
With 15 concerts taking place from June through September, the series will showcase a variety of world-renowned artists — from new wave party-rockers the B-52s to reggae superstar Ziggy Marley to country legend Emmylou Harris — before finishing up on Labor Day weekend with a pair of sold-out shows by "Weird Al" Yankovic. Other notables this year include Indigo Girls, Bruce Hornsby and the Noisemakers, Patty Griffin, Peter Frampton and Cheap Trick, and Huey Lewis and the News.
Oregon Zoo members may purchase tickets early, starting at 10 a.m. Tuesday, April 21. Non-member music fans can receive a code to purchase tickets starting at 10 a.m. Wednesday, April 22, by becoming a fan on the zoo's Facebook page or following the zoo on Twitter.
Sunday, June 21: Chicago
Saturday, June 27: The B-52s
Saturday, July 11: Indigo Girls
Friday, July 17: Needtobreathe, Switchfoot
Friday, July 24: Bruce Hornsby & the Noisemakers
Saturday, July 25: Patty Griffin, Mavis Staples with Amy Helm
Sunday, July 26: John Butler Trio
Friday, July 31: Emmylou Harris, Rodney Crowell
Saturday, Aug. 8: Ziggy Marley
Saturday, Aug. 15: Trampled by Turtles, Devil Makes 3
Thursday, Aug. 27: Peter Frampton, Cheap Trick
Friday, Aug. 28: A Prairie Home Companion
Saturday, Aug. 29: Huey Lewis & the News
Saturday, Sept. 5: "Weird Al" Yankovic
Sunday, Sept. 6: "Weird Al" Yankovic
For more information, including show times and a full schedule, visit zooconcerts.com. Not every show has an opening act, so fans should make sure to arrive on time to make sure they don't miss part of the show. Concert tickets are good for zoo admission all day on the date of the show.
In 1979, the Oregon Zoo became the first in America to host a summer concert series. Now, the series is one of the top outdoor events in the Northwest, and is the region's longest continuously running outdoor series.
Oregon Zoo Summer Concerts are presented by the Oregon College Savings Plan and Banfield Pet Hospital.