From press release: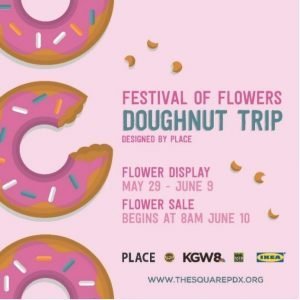 Portland 2015 Festival Of Flowers
National Doughnut Day, Doughnut Giveaway
June 5, 2015
More info: www.thesquarepdx.org
Pioneer Courthouse Square
701 SW 6th Ave, Portland, OR 97204
Get 'em while they're hot! This Friday, June 5, is National Doughnut Day, and in conjunction with the Festival of Flowers display Doughnut Trip, Pioneer Courthouse Square will be celebrating by giving away FREE DOUGHNUTS on the Square! The Square will begin the day handing out 200 doughnuts, provided by its neighbor Coco Donuts, starting at 8am, and will follow up with an additional 1,000 doughnuts from Krispy Kreme at noon. The Square will also host a FREE musical performance at Noon by Portland's own The Beat Goes On Marching Band.
This year's Annual Festival of Flowers opened May 29th at Pioneer Courthouse Square with a fun and delicious design to fall head over heels for! Doughnut Trip is made up of a dozen life-sized doughnuts and a baker consisting of nearly 18,000 flowers and plants and designed by local landscape architecture studio PLACE. The floral display will be on the Square through June 9th. The Festival of Flowers massive floral installation is comprised of Impatiens, Begonia, Marigold, Lobelia, Pansies, Viola, Coleus, Vinca, Basil, Peppermint, Spearmint, Alyssum, and Black Mondo Grass.
All of the flowers and herbs utilized in this year's installation will be available for purchase—well below retail prices—during the annual Flower Sale at Pioneer Courthouse Square beginning at 8:00AM on June 10th. Visitors will be able to choose from a wide variety of plants starting at only $.83 a piece!
For further details on Festival of Flowers and all of the other community events held at Pioneer Courthouse Square, be sure to visit www.thesquarepdx.org, become our fan on Facebook, and follow us on Twitter @thesquarepdx.
———————————————
Related Portland Events & Info
———————————————————————————
FREE PORTLAND: We give out 100s of $$$ in free tickets every week including to many of the top music and art venues in Portland. Join our newsletter if you like free stuff!
———————————————————————————
Our new Portland Events App for PDX Pipeline is now available for iPhones, Android phones and iPads!
Now, you can have all of the great Portland events from our website in the palm of your hand when youíre out on the town.
———————————