From website: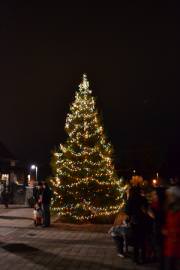 Lake Oswego Holiday Tree Lighting
November 27, 2015
5:30-9 p.m. | FREE | All Ages
More info: lake-oswego.com
Bigelow Plaza
5th St. and A Ave., Lake Oswego
The traditional beginning of the retail holiday season in Lake Oswego begins the day after Thanksgiving with the Annual Holiday Tree Lighting ceremony and parade. The Chamber of Commerce and the City partner each year to put on this event that begins on the corner of 5th St. & A Ave. in downtown Lake Oswego.
Bigelow Plaza is home to the giant Sequoia tree that stands in the corner of the Safeway grocery store parking lot at that intersection. For over forty years residents and visitors alike have gathered at 5:30 pm on the day after Thanksgiving to watch the Mayor throw the switch that turns the giant tree into a living symbol that for many is the beginning of the Christmas shopping season and for others a symbol of love, hope and the joy of giving. It's the holidays after all!
Santa then appears riding in a fire engine that will lead a parade down A Avenue to Millennium Plaza Park where he will listen to children wishes as local choirs sing, the Millennium Concert Band will play and all will enjoy warm beverages, cookies and popcorn in anticipation of a second event that will light the entire park for the holiday season.
The Lake Oswego Chamber of Commerce is proud to host and coordinate this great family holiday tradition.
———————————————
Related Portland Events & Info
———————————————
FREE PORTLAND: We give out 100s of $$$ in free tickets every week including to many of the top music and art venues in Portland. Join our newsletter if you like free stuff!
———————————————
Our new Portland Events App for PDX Pipeline is now available for iPhones, Android phones and iPads!
Now, you can have all of the great Portland events from our website in the palm of your hand when you're out on the town.
–————————
———————————————