From our sponsors: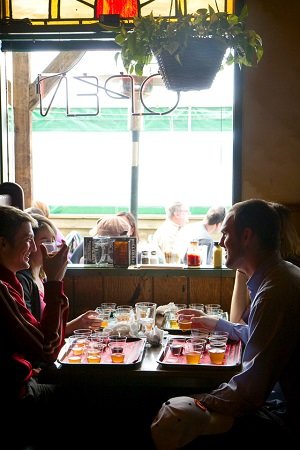 Hillsdale Brewfest
February 21, 2015
11 a.m. – Late | Free | 21+
More info: mcmenamins.com
Hillsdale Brewery & Public House
1505 SW Sunset Blvd, Portland, OR 97239
(503) 246-3938 | More info: mcmenamins.com
Twenty-two of the finest beers from McMenamins' breweries are sent into battle, their brewers vying for bragging rights, the notorious championship belt and a berth in the annual Oregon Brewers Festival held in downtown Portland in July.
Patrons order "trays" of beer samples, arranged from lightest to darkest. It is our guests' official duty to decide who deserves the coveted title. The beers cover the spectrum of brew styles – from hefeweizen to oatmeal stout, barleywine to smoked amber ale and beyond. Each taster casts one ballot that lists his or her top three choices. (And beware the brewers' shameless vote-mongering. Don't say we didn't warn you.)
So head to the Hillsdale Brewery & Public House in February to drink, vote and be merry – and may the best brewery win.
Curious about what brewers and breweries have captured the Belt in year's past? Recognize some of these names? Take a trip down memory lane for here is the lineage, taken directly from the words stamped into/upon those big leather weight belts.
February 22, 2014
Double Helix Double IPA
Matt Carter • Dave Kosanke • Concordia Brewery
2013
Silvercone India Pale Lager
Brady Romtvedt • Chris Oslin • Cornelius Pass Roadhouse
2012
Free Will IPA
Tim Proctor • John Barleycorns
2011
Dark Star CDA
Brady Romtvedt • Chris Oslin • Cornelius Pass Roadhouse
2010
Lucky Charms Irish Red Ale
Tim Proctor • Ben Nehrling • Concordia Brewery
2009
Hot For Teacher IPA
Tim Proctor • Ben Nehrling • Concordia Brewery
2008
Madman Jacks Insane Pale Ale
Matt Carter • Hillsdale Brewery & Public House
2007
No Mas Lento IPA
Chris Haslett • Fulton Brewpub
2006
White Lightning Whiskey Stout
Tim Proctor • Brian Riley • Concordia Brewery
2005
Royal Oil Oatmeal Stout
Mike "Curly" White • Fulton Brewpub
2004
Big Bully Organic IPA
Greg Balch • Hillsdale Brewery & Public House
2003
Hoof-To-The-Head Organic Oatmeal Stout
Greg Balch • Hillsdale Brewery & Public House
2002
Stronghold Imperial Stout
Jason McAdam • Hillsdale Brewery & Public House
2001
Beltfester Lager
Bart Hance • Antonio Gonzalez • Cornelius Pass Roadhouse
2000
Armadillo IPA
Vince Howell • Highland Brew Pub
1999
Reincarnation Pale
Andrew Collins • Craig Gulla • Crystal Brewery
1998
Jabba The Porter
Jon Green • Hillsdale Brewery & Public House
1997
Brahma Mama Pale
Clay P. Riley • Hillsdale Brewery & Public House
1996
Chewbaccan Stout
Mike Hogan • Lighthouse Brew Pub
1995
Old Bushwacker
Bart Hance • McMenamins West Linn