From press release: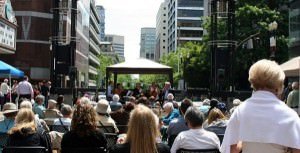 2015 Summer Arts on Main Street
Wednesdays, July 8 – September 2, 2015
11 a.m. – 2 p.m.
More info: portland5.com
SW Main Street, between SW Broadway & Park Ave.
Every summer, the streets of downtown Portland become a popular destination for locals, including downtown-area workers, tourists and residents. One reason for the increased foot-traffic is the free Summer Arts on Main Street series produced by Portland'5 Centers for the Arts.
The series, presented every Wednesday from 11AM – 2PM during the months of July and August, includes free music (and other miscellaneous) performances, children's activities and outdoor booths featuring local artisans selling handmade crafts. Begun in 2004 the event has evolved into a rite of summer for downtown Portlanders, offering a wide range of family-friendly activities along Main Street between SW Broadway & Park Avenue. Adjacent to the Portland Farmers Market on the South Park Blocks and the Arlene Schnitzer Concert Hall, Summer Arts on Main Street has helped transform this swathe of downtown into one of the most visible, heavily trafficked areas of the city.
Hundreds of people attend the outdoor event for either all or some of the offerings during its three hour duration. About 200-400 people alone, for example, attend the Noontime Showcase performances starting at noon. Over the years, these performances have included rock, jazz, marimba, and country acts, plus dance and aerial artistry. Most, if not all, of the performers are local. The children's art activities and booths selling handmade crafts are also well attended as visitors stream into the area freely, participating in the activities or perusing the booths. The children's art activities average about 80 visitors each week.
NOONTIME SHOWCASE MUSIC SCHEDULE
Music Noon – 1PM
In the event of rain, or extreme heat, this event will take place in the Antoinette Hatfield Hall rotunda.
———————————————
Related Portland Events & Info
———————————————
FREE PORTLAND: We give out 100s of $$$ in free tickets every week including to many of the top music and art venues in Portland. Join our newsletter if you like free stuff!
———————————————
Our new Portland Events App for PDX Pipeline is now available for iPhones, Android phones and iPads!
Now, you can have all of the great Portland events from our website in the palm of your hand when you're out on the town.
Download the App for iPhone here
Download the App for Android here
–————————
———————————————