From our sponsors: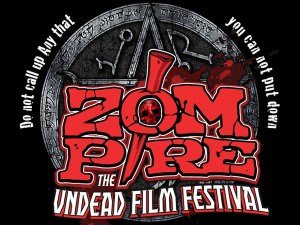 Zompire: The Undead Film Festival
October 11-12, 2014
October 11th, 6-10 pm
October 12th, 1-5 & 6-10 pm
Saturday $15 / Sunday $30 / Weekend Pass $40
Tickets: brownpapertickets.com
Grab Kickstarter Exclusive Ticket Packages at http://bit.ly/zompirekick2014
Clinton St. Theater
2522 SE Clinton St, Portland, OR 97202
(503) 238-5588
Zompire: The Undead Film Festival is returning to the Clinton Street Theater, and is proud to once again be screening only independent films this year. From the people behind the H.P. Lovecraft Film Festival & CthulhuCon (19 years and running), Zompire: The Undead Film Festival is an annual event featuring independent short and feature films of the Undead! Get your Halloween season started right with the coolest, most intelligent, occasionally gruesome, and totally fun movies and events.

BACK THE KICKSTARTER
The only place you can get special ticket packages or our exclusive t-shirts, lapel pins, pendants, and limited edition Undead Domination Kits are by backing the Zompire Kickstarter campaign which ends Sept 27th. These rewards will not be offered outside the Kickstarter. http://bit.ly/zompirekick2014
TRULY SUPPORT INDEPENDENT FILMS
Our stretch goals include giving cash prizes for the top films at Zompire. This helps independent filmmakers submit to more festivals so their work gets seen by more people and can help them find funding for future projects and distribution deals. Zompire is a low budget film festival, and doesn't normally have the means to award cash prizes, but you can help us accomplish this by supporting our Kickstarter and truly supporting independent filmmaking.

ZOMPIRE IS ALL INDEPENDENT FILMS!
This year's program
features over 30 new short and feature films straight from the twisted brains
of today's brightest and best storytellers. You won't want to miss "Dead Hearts," a sweet story about undying hearts from Stephen W. Martin (director of "Dead Friends"), "Just Gemma," a meditation on the nature of loss by George Carson, "Night of the Loving Dead," a randy, animated piece from Anna Humphries, exploring the ins and outs of love and lust, "The Carriage or: Dracula & My Mother," a fresh take on vampires from Ben Gordon, and "Sever," in which Matt Abraxas examines our extreme will to survive.We are very excited to be showing the feature length Swiss film "Chimères." Director Olivier Beguin give us a new look at vampires.
See the trailer on YouTube:
http://youtu.be/7zYRG_ijs2k
"Chrysalis," gives us a look at what the world is like 25 years after a deadly infection lays waste to humanity. When Josh and Penelope encounter fellow survivor Abira, their lives are forever changed as they fight off the remnants of the infected.
See the trailer on IMDB:
http://www.imdb.com/video/wab/vi3552554265/
For a complete list of films and schedule info visit http://zompire.com
JOIN US ON FACEBOOK
Share in the horror at the official event listing at https://www.facebook.com/events/1500697160160270/ or the main page at https://facebook.com/ZompireTheUndeadFilmFestival
BUY REGULAR TICKETS at Brown Paper Tickets http://zompire.brownpapertickets.com