From press release: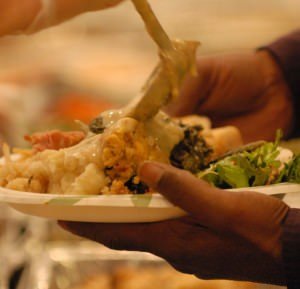 PROPER's annual FREE Thanksgiving Day Feast-ival
November 27, 2014
Noon – 4 p.m. | Free | All Ages
More info: properusa.org
Celebration Tabernacle
8131 N Denver Ave, Portland 97217
503-890-5393
North Portland community enhancement organization, PROPER, and non-profit soul food cafe, Po'Shines, and the Kenton community are teaming up to host a free Thanksgiving Feed on Thursday, November 27th, from noon to 4pm. The dinner is open to the greater community and encourages volunteer participation and community contributions.
The event marks the 14th annual Kenton Thanksgiving dinner that PROPER has hosted for the North Portland Community. Over the years the event has gained continual support from the community, through food donations – with previous dinners serving more than 500 people. The PROPER organization also puts on an annual community festival. The festival is comprised of and ultimately organized by local artists, associations, businesses and invested residents. In all of the community events that they host, PROPER strives to gather maximum community involvement and support. For instance, this marks the 7th year that PROPER has chosen Po'Shines Cafe as the partnering organization for the Thanksgiving Feed.
"We jump at opportunities like this," says Chef James Bradley, "The more we can get people working together, talking together…and even eating together, the stronger we are as a community. The PROPER Thanksgiving Feed is a great example of how to build community."
We have 2 goals for this event:
 Treat 1000 people to a home away from home experience! Meaning delicious dinners made with skill and love, live music from the community, and a welcoming attitude of humble service!
 Provide the the absolute finest Thanksgiving dinner experience of its kind!
This year, the organizations hope to reach more community members than ever before. This year will feature a full Thanksgiving dinner with vegetarian options and live music.
———————————————
Related Portland Events & Info
———————————————
FREE PORTLAND: We give out 100s of $$$ in free tickets every week including to many of the top music and art venues in Portland. Join our newsletter if you like free stuff!
———————————————
Our new Portland Events App for PDX Pipeline is now available for iPhones, Android phones and iPads!
Now, you can have all of the great Portland events from our website in the palm of your hand when you're out on the town.
–————————
———————————————