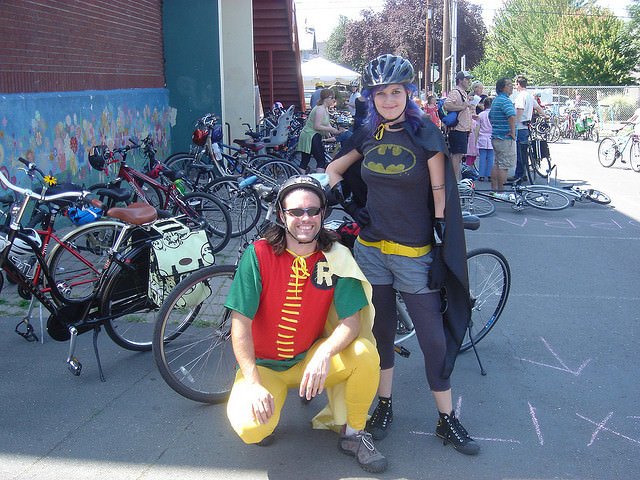 In 2013, 85,480 Portland area residents and visitors participated in Sunday Parkways, allowing them opportunities to get out and active in communities across the city.
FREE PORTLAND: We give out 100s of $$$ in free tickets every week including to many of the top music and art venues in Portland. Join our newsletter if you like free stuff!
———————————————
Related Portland Events & Info
———————————————
From website: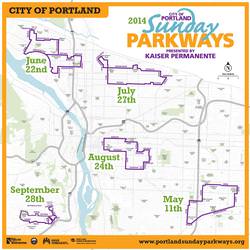 2014 Sunday Parkways
May – September 2014
More info: portlandoregon.gov
East Portland Sunday Parkways
May 11, 2014 ~ 11am-4pm (7 miles)
Celebrate Mother's Day with a tour of East Portland. Whether walking, biking, rolling or dancing along the route, take time to stop by Glenwood, Bloomington, and Ed Benedict Parks for a spot of food, vendors, music and more.
North Portland Sunday Parkways
June 22, 2014 ~ 11am-4pm (9.5 miles)
Cruise along the scenic Willamette Boulevard, and then glide towards Peninsula, Arbor Lodge, Kenton, Columbia Annex and McCoy Parks to enjoy an array of activities, food, music, vendors and fun.
Northeast Portland Sunday Parkways
July 27, 2014 ~ 11am-4pm (8 miles)
Explore the Northeast Neighborhood Greenways while you make your way around the Northeast Portland route. Don't forget to stop by Woodlawn, Alberta and Fernhill Parks where a collection of fun activities, festive music, and delicious food awaits you.
Southeast Portland Sunday Parkways
August 24, 2014 ~ 11am-4pm (7 miles)
Spend a warm summer day walking and rolling around the Southeast Sunday Parkways. While you're at it, take a few moments to explore Laurelhurst, Colonel Summers and Ivon Parks to grab a bite to eat, listen to tunes, and join some activities.
Southwest Portland Sunday Parkways
September 28, 2014 ~ 11am-4pm (6 miles)
End the Sunday Parkways season by taking advantage of the route, including a walk-only trail. Whether rolling down Troy Street or exploring the SW Trails with its rolling hills and scenic views, don't forget to stop by Gabriel Park, Multnomah Village and Hillsdale Shopping Center for food, music, activities and more.
————————————
Our new Portland Events App for PDX Pipeline is now available for iPhones, Android phones and iPads!
Now, you can have all of the great Portland events from our website in the palm of your hand when you're out on the town.
–————————————
—————————————————–