From our sponsors: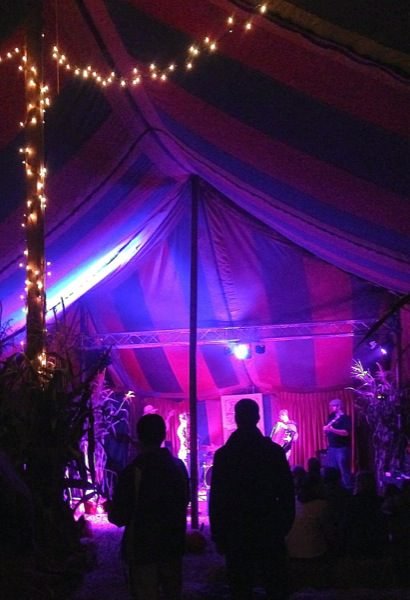 Kruger Farms 2014 Cabaret Maze Halloween Harvest Fiesta
October 31, 2014
6 p.m. until Late | $15 | All Ages
More info: krugersfarm.com 
Tickets: brownpapertickets.com
Kruger's Farm
17100 NW Sauvie Island Rd, Portland, Oregon 97231
A Halloween Celebration unlike any other!
One Big Top Vintage Circus Tent
Two Band Stands
Three Campfires
Four Fire Dancers
Five Great Bands
and surprises galore around every corner… all inside a corn maze on a country farm.
Slip into your costume and head on out to the farm this All Hallows Eve for festive masquerade ball under the big top circus tent.  Watch the fire dancers and hoopers as they sparkle in the moonlight, dance to one of the 5 bands playing in two locations, catch a scary movie in our outdoor theater,  or just gather around one of the campfires with your favorite trickster.
Round the corner….there's no telling what you'll find.
6 pm till late
$15 per person
MAZE STAGE:
Three for Silver, All the Apparatus
BARN STAGE:
Luz Mendoza, Edna Vazquez Quintet, 1000 Fuegos
About Kruger's Farm
Kruger's Farm features a produce market with vegetables and fruit hand-picked every day, u-cut flowers with over 50 varieties, u-pick produce and picnic areas. Kruger's Farm also carries canning supplies and features a retail section with market baskets from Ghana, sun hats and children's garden items. For more information, please visit www.krugersfarm.com or call 503-621-3489. The farm is open daily from 9 a.m. to 7 p.m. and 9 a.m. to 10 p.m. on weekends through October.
Directions to Kruger's Farm Market: Take Highway 30 north past Linnton to the Sauvie Island Bridge. Cross the bridge, proceed north approximately 1 mile on Sauvie Island Road and turn right into Kruger's Farm Market.