From press release: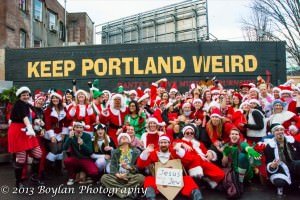 Stumptown SantaCon 2014
December 20, 2014
2 p.m. | FREE
More info: Facebook
Tom McCall Waterfront Park
Portland, Oregon 97204
THEME: "Northern Lights" Wear something sparkly and illuminated.
This annual celebration of Santa is free to attend, if you have a Santa or Christmas themed costume – for ages 21+
This tradition has been featured in KPTV 12 News and Audreality. This year's event, driven entirely by volunteers and will benefit the Portland Police Bureau's Sunshine Division.
In 2011, over 650 Santa's http://goo.gl/WGhl9
In 2012, over 1,100 Santa's http://goo.gl/LVVl2
In 2013, over 900 Santa's: http://www.katu.com/news/local/Jolly-Santas-invade-downtown-Portland-leave-police-laughing-237161551.html
PLEASE KEEP READING!
Stumptown Events Inc., a 501c3 Oregon non profit, fosters participant driven, costume themed progressive street theater events.
Please pay in cash – cards take longer.
Pace yourself – Plan ahead if you drink.
No Open Containers outside of the bars.
PDX Pedicab will be along for a ride.
Obey all crosswalks and laws.
Take lots of photos or videos – post or tag us on our Facebook wall.
Be polite to others and patrons not on our crawl.
Obey the police and/or security.
Tip the bar staff!
Santa's Sleigh ROUTE: Subject to change without advanced notice:
2:00 – 3:00 Waterfront Park – DJ Rice Events: Dancing, Flash Mob Photo Op, and Reindeer Games, "Feats of Strength" Christmas Tree Caber Toss, Sleigh Race, balloon inflate game….
3:15 – 4:30 Thristy Lion, Kells irish pub, Berbati, Voodoo Donuts
4:45 – 6:00 Barrel Room, Jones Bar, Dixie
6:15 – 7:30 Fifth Avenue Lounge, Embers, Mi Mero Mole
7:30 – 8:00 North Park Blocks (candlelight vigil, Photo Op, & dance) DJ Rice Events
8:00 – close Splash Bar, Blitz, Vault Martini
PHOTOS
We encourage our attendees to take photos and share them with each other and us. With that, we ask that all attendees be respectful to each other when sharing online.
By attending this event, you grant to Stumptown Events Inc., its representatives and employees the right to take photographs of you and your property in connection with the above-identified subject. You authorize Stumptown Events Inc., its assigns and transferees to copyright, use and publish the same in print and/or electronically.
You further agree that Stumptown Events Inc. may use such photographs with or without your name and for any lawful purpose, including for example such purposes as publicity, illustration, advertising, and Web content.
———————————————
Related Portland Events & Info
———————————————
FREE PORTLAND: We give out 100s of $$$ in free tickets every week including to many of the top music and art venues in Portland. Join our newsletter if you like free stuff!
———————————————
Our new Portland Events App for PDX Pipeline is now available for iPhones, Android phones and iPads!
Now, you can have all of the great Portland events from our website in the palm of your hand when you're out on the town.
–————————
———————————————