From our sponsors: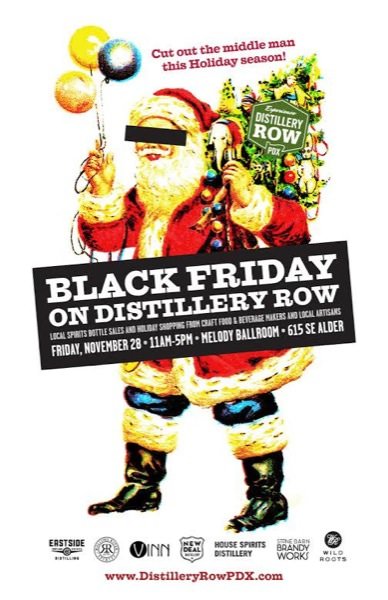 Black Friday on Distillery Row
November 28, 2014
11 a.m. – 5 p.m. | FREE |
More info + Register for Raffle at eventbrite.com
Melody Ballroom
615 SE Alder St, Portland, OR 97214
Members of Distillery Row are getting into the spirit of the season with their 3rd Annual Black Friday on Distillery Row holiday shopping extravaganza at Melody Ballroom in Southeast Portland.
The event offers a unique opportunity to sample and purchase bottled spirits from seven Distillery Row distilleries–New Deal Distillery, House Spirits, Stone Barn Brandyworks,Eastside Distilling, Vinn Distillery, Rolling River Spirits and Wild Roots Vodka–all under one roof.
Also on hand will be samples and goods for sale from several of Portland's most unique food, beverage, and crafts artisans, including Alma Handmade Chocolates, Cardamom Hills Trading Co, Alesia Zorn Calligraphy & Engraving, Lovejoy Bakers, Portland Bitters Project, Masala Pop, Marshall's Haute Sauce, Portland Creamery, Salt & Straw Ice Cream, Smashed! Boozy Jams & Jellies, Pok Pok Som Drinking Vinegars, Olympic Provisions, MeeMee's Goodies, Unique Gardens, NW Cigars, Sage & Sea Farms, Marigold Coffee and more.
The holidays don't have to be all about giving to others! Come to Black Friday on Distillery Row and indulge yourself! And if you happen to pick up a few things for friends and family…well, we won't tell.
Admission is FREE. No registration required. Drop-ins welcome. However, if your register on Eventbrite you'll be entered into raffle with chance to win two NEW 2015 Distillery Row Passports!