From our sponsors: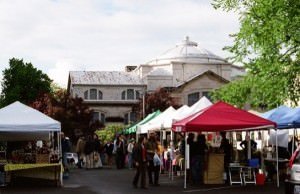 2014 Northwest Portland Farmers Market
Thursdays June – September 25, 2014
2-6 p.m.
More info: portlandfarmersmarket.org
Parking lot across from Trinity Episcopal Cathedral at NW 19th and Everett
The Northwest Farmers Market features 20 vendors bringing locally-grown fruits and vegetables, berries, baked goods, meat, eggs and flowers right to the heart of Northwest Portland.
The market is open Thursdays, June through September from 2-6pm, and is located in the parking lot across from Trinity Episcopal Cathedral at NW 19th and Everett.  Walk, bike or drive—free on-site parking is available (enter on Davis between 18thand 19th).
Stop by to sway to the beat of live music from local performers, enjoy tasty food and beverage samples and fill your market baskets with fresh local food.  Seniors, join us on the third Thursday of every month for fruit and veggie bingo where prizes come in the form of market produce. Bingo takes place from 3:30-6:30 every thirdThursday, rain or shine.
If you or someone you know has an Oregon Trail card, come to the market information booth to find out how you can double your food dollars at the market—up to $5 each week!  The market's Fresh Exchange program helps to get more farm-direct produce into the hands of our low-income neighbors while supporting our region's small farms and food producers.
Come to the Northwest Farmers Market to meet the faces behind your food, visit with your community and celebrate the bounty of our region.  For more details, visitwww.portlandfarmersmarket.org.
See the full list of vendors at portlandfarmersmarket.org/markets/northwest