From our sponsors: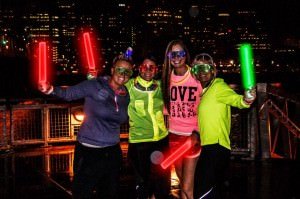 Neon Glow Run
August 17, 2013
9 p.m. | All Ages
$55.00 starting June 1st 2013
$60.00 starting July 1st 2013
$65.00 starting August 1st 2013
More info: neonglowrun.com
Eastbank Festival Plaza
SE Water Ave. and SE Main St. Portland OR 97214
Make your very own Portland statement and show your SWAG during this 2.74 mile glowing street party. This is not your typical run; neon runners can run, walk, trot, or dance the night away as long as you get you're GLOW on. Don't miss your chance to join Portland's premier Neon Glow Run and light up the town.
Come in your flashiest neon outfit, we will provide you with your GLOW! Each contestant will receive glow bracelets, glow necklaces, a glow baton, and glow glasses. You will also receive a Neon Glow Run T-shirt to show off around town and let people know you lit up the streets of Portland with your Neon SWAG.
Packet Pick-Up
Neon Glow Run has proudly partnered with Portland's very own Foot Traffic for Packet Pick-up!
For two days, All participants can pick up their bib number, glow gear and t-shirt.
Dates: Thursday, August 15th & Friday, August 16th
Location: Foot Traffic – Thursday, August 15th – Sellwood Location
Foot Traffic – Friday, August 16th – Downtown Location
Please see foottraffic.us/locations.php for location details
Packet Pick Up Hours: Thursday, August 15th, 3pm – 7pm Friday, August 16th, 12pm – 6pm
AFTER PARTY
Don't miss Portland's premier after party of the year at Refuge Warehouse and Night club. This after party will be like no other you have ever been too. You will be surrounded by neon laser lights inside Refuge as Portland's Hottest DJ's mixes some of the sickest beats you have ever heard. Refuge Night club offers 4 bars, 2 VIPs rooms and a sound system that rivals any in the nation.
We are offering an experience for all ages! That's why we have blocked off the streets to make one huge block party. If you're 21 and want to enjoy an adult club atmosphere with all your glow gear on join us inside Refuge Warehouse. If you are under 21 or are looking to enjoy the company of your friends and family, come glow outside at the block party. Some of Portland's best known Food carts will be on hand to feed those midnight munchies! Whether it's clubbing inside or at our family friendly block party, you will be part of making this year's epic all night glowing dance party the event of the year!