Chance Hayden's Desert Room All Stars @ McMenamins Al's Den | w/ Dante Zapata, Mid-century Jazz, Blues and Original Works
From our sponsors: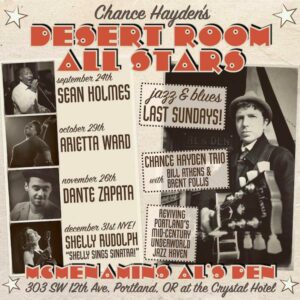 Chance Hayden's Desert Room All Stars w/ Dante Zapata
November 26, 2023
Doors 6:30PM, 7PM Show | $10 ADV, $15 Doors | 21+
More info: mcmenamins.com
Al's Den
303 S.W. 12th Ave., Portland, OR 97205
Guitarist, composer and producer Chance Hayden presents the Desert Room All Stars, a monthly series every Last Sunday at McMenamins Al's Den evoking the venue's storied past in the 50s and 60s as the Desert Room.
Formerly a high-class hang for Portland's underworld where anything desired was obtainable, burlesque and jazz were showcased nightly with a long-term house band led by New Orleans native saxophonist Charlie Gabriel who attracted notable guests such as Duke Ellington, Cab Calloway and Sammy Davis Jr.
In a similar format, Hayden leads a trio plus various guests performing two sets of mid century jazz, blues and original works inspired by that period. Hayden's guitar stylings are rooted deeply at the intersection of these genres, yielding an"adventurous, no-holds-barred sensibility with both bluesy grit and modern-jazz finesse" (Jazz Society Of Oregon).
Though the building has undergone numerous changes through the years and be come more of a singer-songwriter hub under McMenamins ownership, vibes of the Desert Room era remain highly palpable and Hayden will reveal that Al's Den stands as one of one of the city's most iconic rooms for jazz.